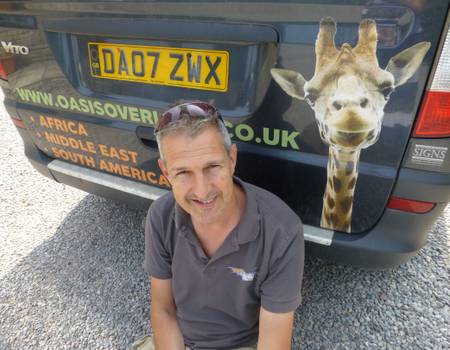 Chris Wrede
Oasis Overland Founder
I started my lust for travel when my parents emigrated from apartheid South Africa to the United Kingdom when I was a teenager. After finishing school in the UK I visited a kibbutz in Israel and hitchhiked back to the UK across Europe.  From here there was no turning back, my next trip as a 22 year old was backpacking trip through Zimbabwe, Botswana, Zambia and Malawi, then cycling from the UK through Algeria and Niger and onto Gambia – boarded a yacht looking for crew and we ended up on the South American continent where we continued to cycle. The adventure has yet to stop.

First Oasis Truck Travelled on:
D650 NOX from Istanbul to Cairo in April 1998

Top Thing to Pack:
Photos of my kids and family – a great way to interact and share stories with people you meet in country.

Top Tip:
While travelling take the rough with the smooth, don't stress.

Favourite Travel Memory:
The many occasions I met local people and chatted to them or shared meals or were invited into their homes.
Jackie Woon
Accounts, Finances & Responsible Travel
Ever since I was a child I have had a fascination with travel, and Africa in particular. My introduction to the continent began with a Trans-Africa expedition over 25 years ago! This led to three years work as a Tour Leader and then coming back to run the UK office of a small overland company. I have been involved with Oasis since Day one and my role has evolved from sales and operations to Finance, and my other big passion Responsible Travel. Having two children along the way and having travelled widely with them I am also a big advocate of travel with children and the personal development opportunities it offers them, in addition to the huge amount of fun it is for a family. 

First Oasis Truck Travelled on:
Habibi

Top Thing to Pack:
Clean knickers!

Top Tip:
Try to read, or take some books by local authors before you go - it will help give you a feel for the country and definitely learn some phrases of the local languages.

Favourite Travel Memory:
Watching my children being taught, by local Malawian children, how to do somersaults into Lake Malawi. They didn't have a shared language but managed to spend a morning laughing and joking; followed by a great acrobatic performance by all!

Ceris Borthwick
General Manager
I blame my constant itchy feet on my parents who took me to Zambia and Zimbabwe for the school holidays during my teens. My Dad was working in Zambia and we had family in Zim so it was a great opportunity for us kids to experience Africa.  By the time I left school I was hooked on travel. I booked up for a Trans Africa overland expedition.

That was over 20 years ago and I've worked in the overlanding industry ever since. I started at Oasis Overland in 2003, starting out in sales and operations and was lucky enough to hop on a few trips. Nowadays I look after our UK Head Office and the marketing side of things but still get out on the road whenever possible. 
First Oasis Truck Travelled on:
Didingo! In Ecuador. A long time ago now… she's made a few journeys since then.
Top Thing to Pack:
Less than you think you'll need!  It's so easy to weigh yourself down with too much stuff you don't need and you can buy most things on the road.
Top Tip:
Head out to local cafes and bars – great for meeting the locals and trying new food!  Don't be afraid to try street food either.  If the vendor has a lot of customers, that's a sign of good food.
Favourite Travel Memory:

Trekking the W Track in Torres del Paine National Park. It snowed which meant the going was quite tough but it made the already stunning scenery even more beautiful.
Mark Middleton
Fleet and Operations Director
Caravan trips from Lincolnshire to Devon were the norm in my early childhood. If we were really lucky, a stop off at Whipsnade Zoo was thrown in for good measure.
A farming background gave me a good grounding in both practical and mechanical skills, and this also led to my taking of both a HGV and PSV licence. Working for a large Horticultural company in the UK required long winter working hours, which in turn gave me extended holidays in the summer months. It wasn't long before I discovered Overland in the form of an African Safari, and a year later I'd applied for a job and was driving and tour leading the same route!
Move on some 12 years, and I've been lucky enough to have explored every South American country, travelled the Silk Road in a totally unsuitable car and worked in East Africa. Nowadays rather that drive the trips, I spend a bit more time in the office, but also ensure the vehicles are up to a UK safety standard, train new crew and support them on the road.
First Oasis Truck Travelled on:
Frida in South America
Top Thing to Pack:
Dry bag – apart from the obvious use, they are great to use as an extra overnight bag, or to keep dust out of electronics.
Top Tip:
Don't put your tent up in a dip in the ground – it's all good until it rains!
Favourite Travel Memory:
Driving an overland truck through the Serengeti – quite a move on from Whipsnade Zoo!
Katie Carson
Africa Sales & Operations
I got the 'travel bug' very early on, as I lived in Khartoum from the age of 3 to 8, so have vivid memories of swimming in the Nile, and camping under the African stars.  My travels continued on in my gap year where I spent 5 months travelling around Tanzania and Kenya, a month in Lençóis, Brazil, and then always snatching getaways where I could, from Oman to Morocco as well as many European countries.
I joined the Oasis family part time in September 2013 to do a general administrative role, in December I took on a full time role and took on the 'Africa desk'. I got a chance to go on our Gorillas & Gameparks trip which was the most incredible experience, and I was properly initiated into the overlanding world.  
I have since been on a few more trips on the big yellow truck through Africa and Kyrgyzstan and will continue the adventures.
First Oasis Truck Travelled on:

Woxy the yellow beauty driven by Mick and tour leader Joe
Top Thing to Pack:
Thermarest roll mat....they self inflate, don't take up much space and are really comfy.  Head torch....used that every night!
Top Tip:
Go with the flow, relax and enjoy, and remember if you want to meet the locals then you just need to go out of the campsite!
Favourite Travel Memory:

This is tough as have so many to choose from, so will narrow it down to 3 (ok 4!)! Being a metre away from gorillas in the wild in Rwanda has to be right up there. Swimming with dolphins off the coast of Zanzibar. Building a playground from scratch in Lençóis, Brazil. And finally staying in a yurt on the edge of Lake Song Kol, with horses roaming around freely everywhere I looked.
Jamie May
South America / Central Asia Sales & Operations
I remember being in a bit of a rut so whilst walking home from work on a cold grey day in London I pulled out my mobile phone and booked a trip on my own to Mexico on a complete whim.
After changing planes in Miami, I recall looking down on the expansive lights of Mexico City and thinking "what the hell am I doing?" – but it was way too late to turn back as the seatbelt light pinged on and we came into land.
That trip pushed me way beyond my comfort zone and after that there was no going back. Some 60 countries later, from China to Chile and Iceland to South Africa I'm still going and plan on visiting many more places and gaining many more experiences in the future.
Top Thing to Pack:
My iPod was recently described as "retro" but it works without WiFi and can help you zone out when you need to which can be helpful on a long journey or just want a bit of downtime.
Top Tip:
Spend money on experiences if you can as the memory will last a lot longer than how much it cost you. Don't regret not doing something when you get home!
Favourite Travel Memory: 

Being kicked by a mountain Gorilla in Rwanda. The signs at the base say you are to stay 14 meters away, but Gorillas can't read!
Amelia Hooley
Sales & Operations Support
Growing up in Zimbabwe I was incredibly lucky to have experienced so much in my childhood that most wouldn't dream of!
When I came over to boarding school in the UK aged 14 I missed the African sun and friendliness of my fellow Zimbabweans and couldn't wait to get back there but it also started dreaming of  exploring the rest of the world.
After finishing university my travelling really began when I was lucky enough to get a job working on cruise ships going all over the world; but after a few years of this I decided it was time to set down some roots so planned a 15week Kingdoms and Carnivals adventure with Oasis before heading back to London!
I still love exploring new places rather than going back to the same country year after year....so each year I plan a trip to a new country or few!
First Oasis Truck Travelled on:
Didingo in 2007 for my Kingdoms and Carnivals trip from Rio to Quito
Top Thing to Pack:
A decent camera with lots of storage or memory so you capture lots of incredible moments!
When packing – get everything you want to take in front of you and then halve it! You will never wear everything you take so best to leave space for all the things you would like to buy on your trip!
Top Tip:
Be prepared to get out of your comfort by trying new activities and tasting local delicacies, meeting local people and making new friends; and accept that things may not always go to plan, there is nothing you can do about this but it will definitely give you travel stories for back home and memories that last a lifetime!
Favourite Travel Memory:

There are many to choose from but my top 3 are lying on the ground with my truck buddies staring up at the beautiful starry sky in South America, hiking around lakes and on glaciers in Alaska and Skydiving in Hawaii!
Kate Floyer
PR & Marketing
I visited Africa for the first time when I was 16, and still remember the smells, the craziness and the culture shock when we landed in Nairobi. I left home almost as soon as I could, and travelled around the world for the next 13 years. I've worked for Oasis in every continent they operate in, and still can't pick a favourite! I've recently settled in the UK and am trying out the office lifestyle...we'll see how long it takes before I get itchy feet again!

First Oasis Truck Travelled on:
Gunga in Africa

Top Thing to Pack:
Reusable water bottle and water purification tablets - so you can still fill up in hotels and make the water safe to drink!

Top Tip:
Don't sweat the small stuff; take a moment to remember where you are and what amazing things you're doing.

Favourite Travel Memory:
My bed was on the truck beach and I used to have the roof open at every opportunity. Sleeping under a blanket of stars became the norm - one I miss a lot!

Our crew have gained considerable knowledge and experience of travelling even before they join us. They have a passion and an enthusiasm for their work and for the countries and places we visit.
Their experience and knowledge will enable you to get the most out of your trip and to have an unforgettable experience. Their roles are many and varied and include amongst other things, maintaining the truck throughout the trip, organising group activities and bookings, managing trip funds, overseeing group rosters, organising border crossings and permits, organising the day to day running of the trip and passing on general information to the group. However, Oasis crew are not guides as such, so do not expect them to hold your hand every step of the way - get out and experience things for yourself, read the guide books, get lost in markets, meet the local people and talk to them - it's all part of the experience!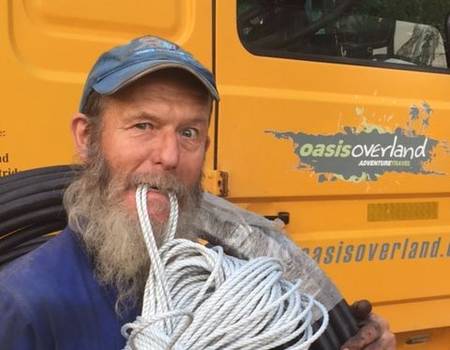 How long have you been overlanding and how did you get into it?
I have been overlanding since 1978, my first trip was from Delhi to Athens. I've seen many changes in my time in this business, and overlanding is still a fantastic way to travel. I've met so many good people and seen so many things.

Funniest overlanding moment:
Libby, a traveller on one of my most recent Central Asia trips,  running around in Kyrgyzstan in a T-Rex suit! It bemused other travellers and locals alike!

Favourite places/ activities:
Driving through the Democratic Republic of the Congo….I don't like motorways!

Top Tip for Oasis travellers:
Bring 3 things with you – clothes pegs, a washing line and a sense of humour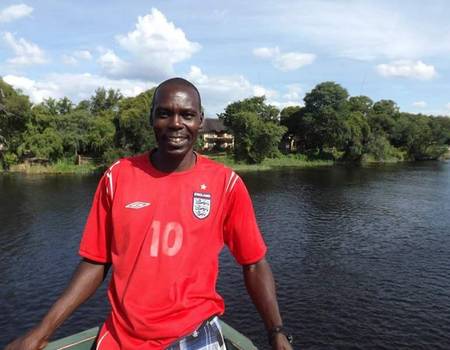 How long have you been overlanding and how did you get into it?
I have been overlanding for 21 years now. I started out by working in a campsite helping with mechanics on the trucks and was asked if I wanted to work for the overlanding company. I started out with Trek Africa. I was taken on as a general helper, making fires, cooking, general help and then worked up to Driver (as I already had my licence and also had studied mechanics previously) and then Tour Leader. In between trips I studied tourism and got my tour leader qualification.

Funniest overlanding moment:
Back in the old days when the crew used to play tricks with other crew and have fun at campsites like filling balloons with water and throwing them at each other and other practical jokes.

Favourite places/ activities:
Maasai Mara (Kenya) and Serengeti (Tanzania) as Kenya is my home country and also I love animals so much!

Top Tip for Oasis travellers:
Take on the African way….pole pole (African saying for slowly slowly).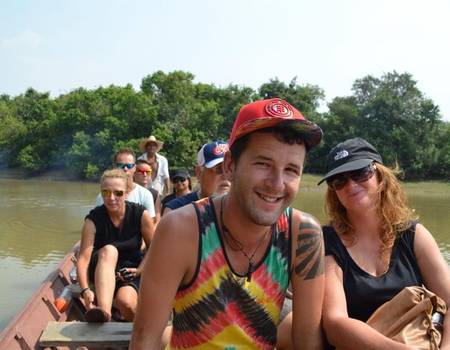 How long have you been overlanding and how did you get into it?
My first trip was as a passenger on the Kingdoms and Carnivals in 2012, I really wanted to go to Macchu Picchu and Iguazu Falls and this trip went to both those places…and a lot in between! I wasn't very well prepared and didn't even bring a sleeping bag, or roll mat! I loved it so much, next thing you know I was on a training trip and am still on the road loving it.

Funniest overlanding moment:
Being asked what the altitude is when camped up on a sandy beach, or a monkey poo-ing down my back in Puerto Maldonado.

Favourite places/ activities:
El Chalten, Patagonia -beautiful walks, ice climbing, stunning scenery, artisan brewery next door and Patagonian lamb for dinner! Perfect!

Top Tip for Oasis travellers:
Don't hook up with another traveller on day 1….day 2 …….in fact any day before day 7!! Bring wet wipes, a head torch and a headphone splitter with you.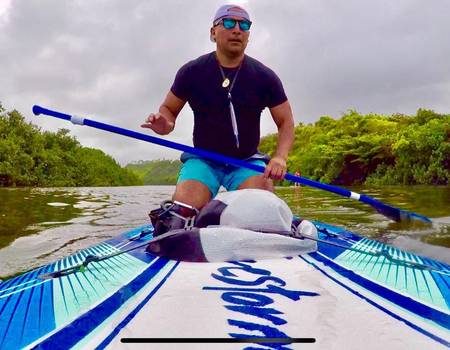 How long have you been overlanding and how did you get into it?
I have been a Tour Leader running Peru and Bolivia trips for almost 9 years.  I decided to stay in South America and become an expert in my area as in my opinion; there is nothing better than showing my own country to all those adventurous travellers who want to explore it. I have also led overlanding trips in Ecuador, Bolivia, Argentina and some countries in Central America.

Funniest overlanding moment:
One night the whole group decided to go out for a drink and party, it was so much fun that we didn't realize what the time was until we walked out of the club to find it was daylight!!! We then went white water rafting that day, and I remember people saying to me the whole day: Ricardo this is the last time we believe your question: SHOULD WE GO OUT FOR ONE DRINK? I guess the water from the river woke everyone up because exactly the same happened again the following night…!

Favourite places/ activities:
Camping in Huacachina Desert, the Amazon Jungle, watching the milky way in the Salt Flats in Bolivia and walking the Inca Trail.

Top Tip for Oasis travellers:
Remember - "It will never be the same as someone tells you, the best thing is to go and see it yourself"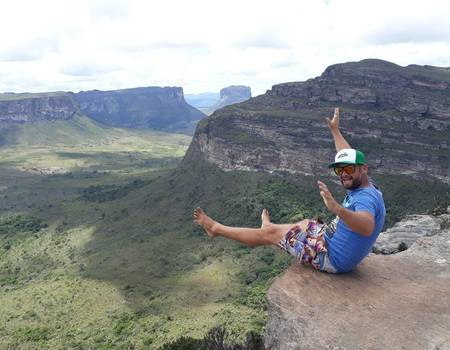 How long have you been overlanding and how did you get into it?
Overlanding for 8 years across 4 continents. I am a truck driver by profession and realised it was much more enjoyable with travelers, sharing their experiences and making new friends.

Funniest overlanding moment:
Fitting 9 people in a spooning position in an oasis tent!

Favourite places/ activities:
Hiking in Patagonia - Torres del Paine/Mt Fitzroy, Skydiving and quad biking in the Namibia desert and getting lost the Kyrgyzstan mountains to name a few.

Top Tip for Oasis travellers:
Sounds clichéd but just come along with an open mind and a thirst for adventure. Sometimes things don't go to plan but it's usually peoples fondest memories. Leave the stress and hard work in the crew's capable hands.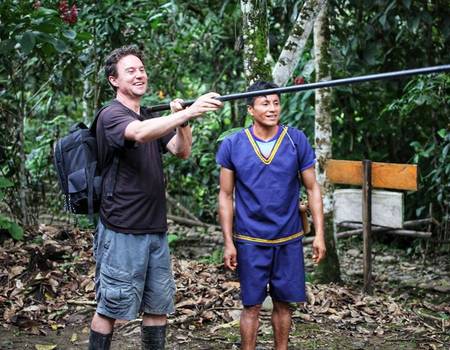 How long have you been overlanding and how did you get into it?
I did my first trip as a passenger in 2009 from London to Sydney, followed by Cape Town to Cairo, then the West Africa Trans and thought I better join the team. I and started working as crew in early 2017.
Funniest overlanding moment:
Once again there are so many options but I'll go with the time Nikki and I were travelling between Cusco and Puno so our passengers could head out to Lake Titicaca. At the best of times it's a big drive day but we'd had the extra fun and games of it being on a day when there were protests on the road, a not uncommon occurrence in that part of the world and as a result had to take a 200km cross country diversion. By the time we reached Juliaca it was dark and raining, really hard. The roads were in a terrible state, probably the worst I've seen in South America and it was complete chaos… As we slowly made our way through the centre of the city without street signs, street lights or a clue of where we were going we reached the point where we needed to turn down a deserted side street. There was a tuk-tuk in front of us and as he turned we noticed a giant puddle spanning the entire width of the road, as he gingerly took the turn, making every effort to avoid the puddle we laughed at him as his vehicle was so small and we joked that it might disappear into it. When he was clear I followed with the truck… which promptly sank in the puddle up to the cab doors! Needless to say we weren't laughing anymore (but I'm guessing the tuk-tuk driver was). Ain't karma a bitch? Luckily being rear wheel drive and having diff lock I could extricate the truck with a little effort, ready to fight another day, even if my ego was a little bruised.
Favourite places/ activities:
Hmmmm…. It's like having to pick your favourite child! For Africa it would have to be the gorilla trekking. In South America I really love doing the Death Road mountain biking and for the Silk Road it would probably be the Darvaza gas crater – it's just such a crazy place.
Top Tip for Oasis travellers:

Embrace the chaos of the universe… it's when you get the best memories. You'll always remember the time things went horribly wrong at a border or you got stuck in the mud. Like anything in life you get out what you out in…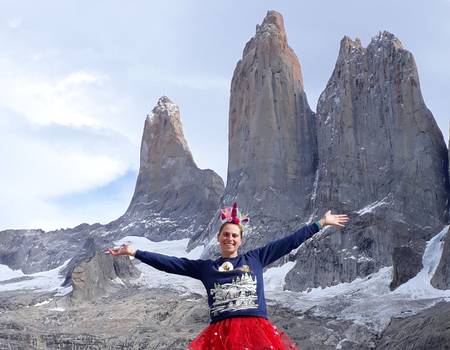 How long have you been overlanding and how did you get into it?
I did Quito to Rio as a passenger back in 2015 and loved it from day 1. Within a week I'd emailed the office to find out more about working for them. After some more independent travel, some more overlanding and living abroad for a year I officially started with Oasis in March 2018 and have run trips in South America ever since.

Funniest overlanding moment:
Having to abandon ship to catch a flight has to be a contender. On the first night of a 6 night boat trip down the Amazon our boat broke a propeller which meant we ended up moving at walking pace. The trip ended up being 7 nights and 8 full days, with a plane to catch on the afternoon of the 8th day we had to pay the crew to take us by tender boat to the closest town so we could get a taxi boat. All the locals on the boat waved us off as they stared in amazement. Unfortunately we had gone through a time zone and the Brazil Immigration was shut for lunch, so we headed to the airport to check in while our taxi driver made some phone calls. We then headed back to Immigration where the lovely lady stamped us out before we made rush back to the airport to enter Colombia. We got through to departures with 15 minutes to spare. As we sat down one of the passengers turned to us and said " I didn't think we'd make that, it was quite exciting, shall we have a beer now".

Favourite places/ activities:
I love Torres del Paine, it's one of my favourite places in the world and my happy place. Driving in just makes me smile. Activity wise I also love going to stay with Tom in the jungle and sandboarding and desert camp out is always good fun.

Top Tip for Oasis travellers:
Be willing to try new things that take you out of your comfort zone, you never know you might just find a new passion.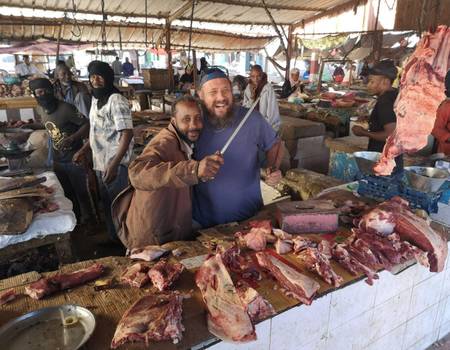 How long have you been overlanding and how did you get into it?
I inadvertently fell into Overlanding in the Middle East in early 2008. At the time I was travelling independently from Istanbul to Cape Town working where I could in the Scuba diving industry. I had never seen an Overland Truck nor did I know of their existence. Having met Kumuka and Oasis Overland crew, listening to their stories and getting an understanding of what they did, I was talked into giving Tour Leading a try and as they say "the rest is History".
 
Funniest overlanding moment:
Umm well what to say here I have so many funny experiences over the last 11 years, it would be difficult to pick `just 1 out of the hat as the funniest. Although one that does stand out would be sitting on the wood locker atop of the truck, watching one of our tents being used as a belly scratching post for an Elephant in Botswana. The funny part of this was that 2 two occupants George and Greg lay asleep and oblivious to the goings on above them until the morning where upon waking they viewed the Elephant footprints all around their tent.

Favourite places/ activities:
After nearly 12 years on the road my favourite place is still Syria, so much so that I have my name down to do the first overland truck trip to return to Syria when it becomes safe again. On top of this my favourite places tend to be our many Bush Camps, over the years I have been privileged to watch the sun set and then wake up and watch the sun rise in some of the most stunning and remote places on the planet.

Top Tip for Oasis travellers:
Go with the flow. Overlanding isn't always smooth, get out of you comfort zone, immerse yourself in all things Truck and Overland Travel, try new foods, talk to the locals, listen to various guides and your crew, have a laugh and fun while you do your cook group and shopping and finally put your phone down and just take it all in. Your trip of a life time also depends on what you do so MAKE THE MOST OF IT AND ENJOY!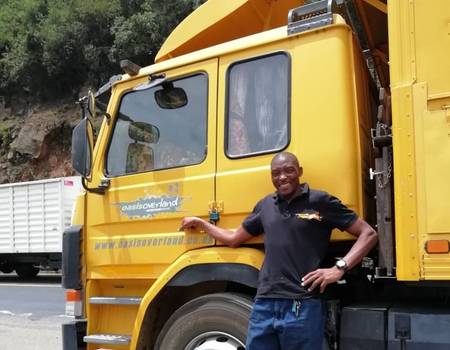 How long have you been overlanding and how did you get into it?
I've been overlanding for 20 years. I was invited by a friend to try driving overland and my first trip was Livingstone to Cape Town. I've lost track of how many trips I've done since then.

Funniest overlanding moment:
There have been lots of great moments but the best memories I have are the interesting clients I've met. One man took the same trip twice, sitting on the left side of the truck the first time and the right the next. 

Favourite places/ activities:
My favourite country is my home, Zimbabwe, but I also love driving in Tanzania and Kenya.

Top Tip for Oasis travellers:
Bring your sense of humour!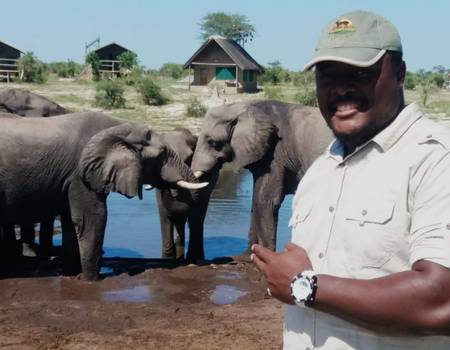 How long have you been overlanding and how did you get into it?
I have been overlanding for 11 years and I am currently a Tour Leader in Africa.

Funniest overlanding moment:
The Dress Up Party at Kande Beach is always so much fun!Zanzibar and Swakopmund are my favourite places. For activities it has to be; bunji jumping and white water rafting in Victoria Falls, pony trekking in Lesotho and skydiving in Namibia.

Favourite places/ activities:
Zanzibar and Swakopmund are my favourite places. For activities it has to be; bunji jumping and white water rafting in Victoria Falls, pony trekking in Lesotho and skydiving in Namibia.

Top Tip for Oasis travellers:
Let us do the worrying so you can sit back and relax!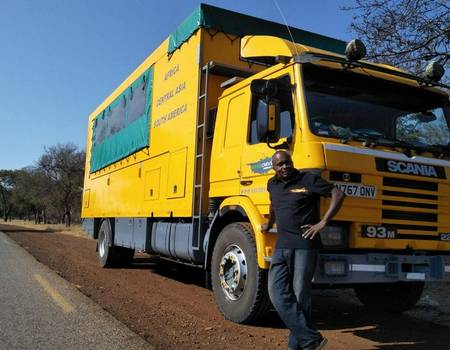 How long have you been overlanding and how did you get into it?
I have been overlanding close to 12 years now. I got to overlanding by choice. I was rewarded by employment after helping a stranded overland truck 12 years ago.

Funniest overlanding moment:
Is when we lost a pot of food. Despite being sure and everybody saw it.

Favourite places/ activities:
Driving around in Namibia is my favourite. You get to feel the space and openness.

Top Tip for Oasis travellers:
Having a positive mindset and ready to have fun will make your trip memorable.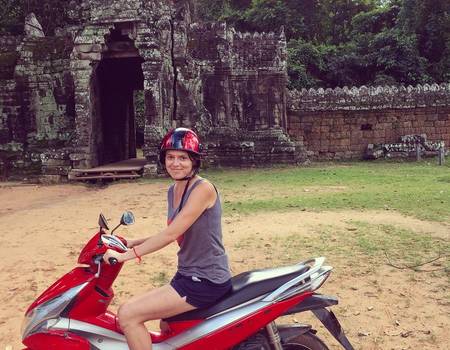 How long have you been overlanding and how did you get into it?
I've been overlanding for almost five years, and I got into it after a passenger trip from Nairobi to Cape Town — a trip I've since led many times! During a sunset cruise in Zanzibar, with a cold Safari beer in hand, as palm trees swayed on the Indian Ocean coast and live African drumming filled my ears, I realized life couldn't get any better. A few months later I was officially Oasis crew! I have led truck trips in Africa and South America and public transport trips through Southeast Asia from China to Singapore.

Funniest overlanding moment:
I laugh a whole lot on every trip, but unfortunately I've been sworn to secrecy about the best moments! One shareable moment was while we were celebrating a birthday on the train from Bulawayo to Victoria Falls. Gloria Estefan's Conga hit the speakers and the group naturally decided a Conga line through the train was in order. I needn't have worried about disturbing other passengers, as the whole train joined in and made it party to remember!

Favourite places/ activities:
There are just too many, but that Zanzibar sunset cruise that started my tour leader career has a special place in my heart. Some of my other favorites are the hike to see the orangutans in Sumatra, Indonesia, horse riding and asado in Argentina (Gaucho day!) and sleeping under the stars in Spitzkoppe, Namibia.

Top Tip for Oasis travellers:
Come with an open mind and sense of adventure! Every part of the trip is an experience of a lifetime, whether you are staring down a lion in the Serengeti or pitching a tent in the rain!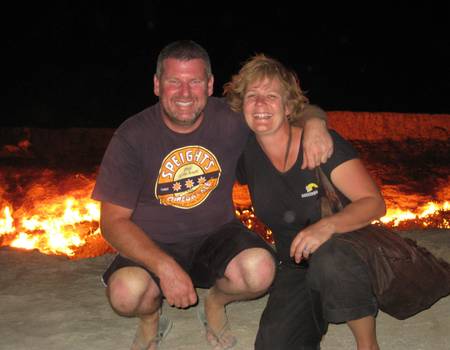 How long have you been overlanding and how did you get into it?
Andi – my first trip was an Africa Coast to Coast trip in 1999 and Grants first trip was a Nairobi to Harare trip in 1995. His trip somehow managed to make a slight incursion into Zaire (as it was called then) in search of the Okapi and fell in love with the roads and challenges faced.! Our first trip working together as crew was in 1999 and we have just celebrated 20 Years with Oasis Overland.
 
Unique overlanding moment:
this isn't a memory from a trip, but when I was getting a truck ready for a trip once. I was at the Oasis workshop, at the time, in a remote spot near Cirencester in the UK. There was a farm nearby and a visitor to the farm stopped and had a chat with me for about 10 minutes. He looked very familiar, but I couldn't work out where I knew him/ recognised him from. He asked me all about overlanding and told me he'd been to Africa. The next day he passed by again and I gave him a quick wave, much to the amazement of my colleague! It turns out it was Prince Harry!

Favourite places/ activities:
there are so many favourites it would be impossible to list them all. Every country has many unique places of interest. As far as activities go, Southern Africa has great adrenaline moments to be had.

Top Tip for Oasis travellers:
You can look at your phone when you are at home – so enjoy your trip without one!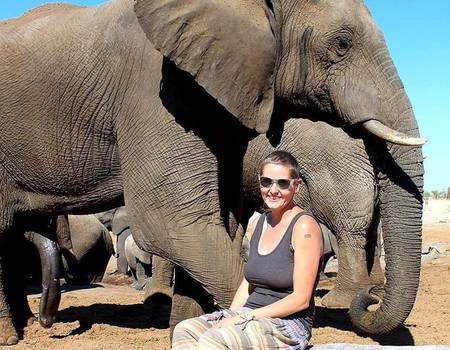 How long have you been overlanding and how did you get into it? 
I fell in love with Africa when I first visited 4 years ago on my first overlanding experience through the Eastern and Southern Africa as a traveller. People say you leave a part of your heart in Africa once you depart and I sure did! So, I spent the best part of the next 4 years trying to get back there!
I remember the day Oasis Overland called me to tell me that they had a position for me and could I be in Africa in 5 days! So here I am.
One of the most important traits for a Tour Leader to have is to be organised, although from my experience of doing this job so far, I have also become pretty good at trying to be a meteorologist, an agony aunt, an expert of different types of bug bites, a distance and time predictor, a money calculator and converter, a friend, a confidant, a life coach, a drinking buddy, a food tester, an African wildlife spotter and expert and a psychic – to name but a few! All part and parcel of the job I would say!
Favourite places/ activities:
My 3 favourite experiences if asked right now would be;
Bush camping where there are no facilities, but made complete with a camp-fire, toasting marshmallows, friends telling stories and sleeping under the stars.
The smiles and glee on my passengers faces when they have had a good day or seen something great and really appreciate the beauty of Africa.
The anticipation of tomorrow and what may be.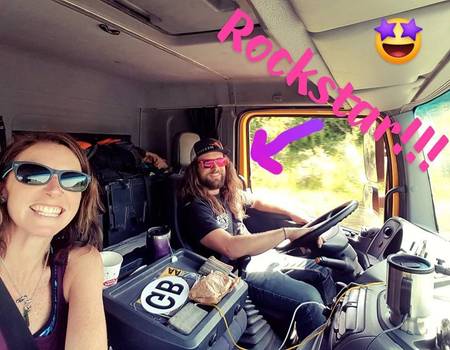 How long have you been overlanding and how did you get into it?
On and off since January 2015. A friend did a trip in South America with another company which inspired me to start doing it.

Funniest overlanding moment:
A passenger once asked how the military trained the Guerillas (Gorillas!). The things tour leaders say on long drive days!

Favourite places/ activities:
Horse riding in Kyrgyzstan, mountain biking on death road in Bolivia, plane ride to Angel Falls in Venezuela.

Top Tip for Oasis travellers:
Dig a little deeper – it'll pay off.