Overland Adventure Trucks Africa
The majority of our vehicles are Scania 93 series 4x2 trucks of between 220 and 280 horsepower. They are custom built trucks made to handle and deal with the terrain and climates we encounter along the way on our trips. In Africa we have our own workshop based in Harare, Zimbabwe which all of our vehicles visit every 3 months for servicing.

Our Africa overland trucks have large open windows – great for hot weather and for viewing wildlife. A unique feature of these vehicles in 'The Beach', an open-top area at the front of the truck. Tarpaulin sides roll down over the windows and across the beach when needed. Trucks seat between 20 and 24 travellers.
The diagram below provides a general idea of the layout of an Oasis Overland Adventure vehicle in Africa.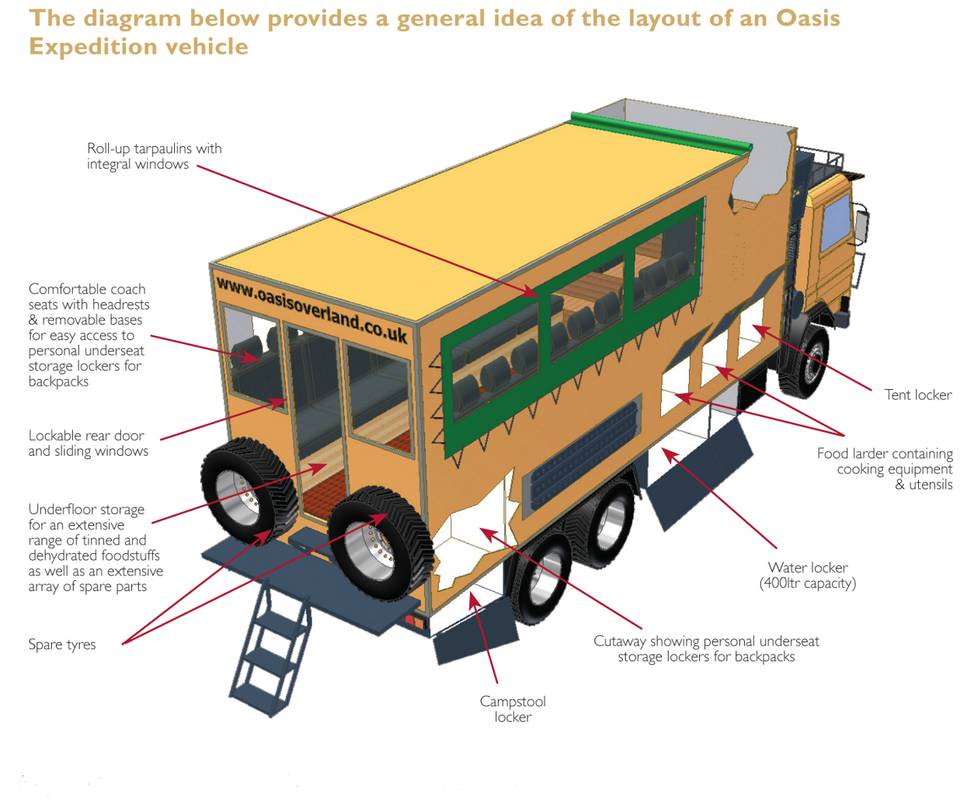 Layouts may differ between vehicles
Key Features of Oasis Expedition Vehicles

All trucks are equipped with:
A mixture of 24 inward, forward and rear facing coach seats with head rests, providing more storage space for your souvenirs and luggage, as well as extra leg room to stretch out on the longer journeys (thus avoiding the typical 'bus' type layout of all forward facing seats with narrow aisles and cramped leg room with less storage).
'The Beach' is a unique feature of Oasis Overland vehicles which enables several people at a time to be up and out in the open at the front of the truck with panoramic views
Under-seat storage for your backpack so you have easy access - even when driving
A mixture of sliding and/or roll-up side and rear windows, providing extensive all round viewing
All trucks are equipped with sand mats
12V in-car charging points
A comprehensive range of spare parts and tools
Large dried and fresh food storage capacities
Onboard truck safe for valuables and money
Overhead lockers for cameras & daybags
Stereo with MP3 & iPod adaptor
Large water carrying capacity
Internal truck buzzer system – to communicate with crew
Internal & external lighting
Long range fuel tanks
Fitted Seatbelts
Equipment & Accessories carried:
Spacious two-person Dome tents with in-built ground sheets and mosquito netting
Cooler boxes (for storage of fresh food and drink)
Professionally compiled expedition medical kit
A comprehensive range of spare parts and tools
All-weather awnings (for cooking and shade)
All cooking and cutlery equipment
Well stocked on-board library
Gas cooker & fire grate
Camp stools
Nile Trans - Cape Town to Cairo
The words 'Cape Town to Cairo' conjure up images of African expeditions from days of old. Even today there are a multitude of challenges that this vast continent can throw at you. Desert, river, & mountain crossings are inter-twined with stunning National Parks & some of the best adrenaline fuelled activities and playgrounds in the world. This is a trip that will linger in your memory long after completion.