Details
It has been nearly 3 months since returning from my trip to Kyrgyzstan, and I still get excited any time that I get the opportunity to talk to anyone about it, and I now have an opportunity to share this experience with anyone that is interested! One of the first things I get asked when telling my friends or anyone about this trip is, so where is Kyrgyzstan?
Or they let me know they have never heard of this country before. Well it seems they are not in the minority, I am not going to lie, before I worked for Oasis Overland I was none the wiser either! So for those that don't know, Kyrgyzstan sits next to China, and just below Kazakhstan and was where one of the major silk routes went through.  As to what the country is like you will pick that up throughout this blog, but what I can say now is that if it hasn't been on your list of places to visit, then I can really recommend it goes to the top of your list! One of the positives of not many people knowing about Kyrgyzstan is that it has still not been changed by tourism, and it lends itself perfectly for over land travel, as it is still 'raw' with natural beauty, and as there aren't campsites it is all about 'bush camping' (pulling over at a good spot and setting up for the night), but in places that are beyond stunning. The locals were always just so friendly and welcoming wherever we went, even though I couldn't speak any of the local language, but my charades often seemed to get me by – even if they also caused a lot of laughter as well! But on to the trip…! This 15 day trip starts in Bishkek, which is the Capital of Kyrgyzstan. To get there I got a flight from stansted via Istanbul with Pegasus (Turkish airlines also flies there), which is a very basic no frills flight, but it got me there! I had booked myself into the Asia Mountains Hotel, as that is where our trip started from, and when I arrived it was the perfect start as there was even a swimming pool to relax in,! Having flown in the day before the trip started, I had allowed for time to explore Bishkek, which was really great to walk around and explore, including getting money changed into the local currency of Kyrgyz som, and having the first opportunity to try some local delicacies, including manty (fried dumplings), plov (a rice dish with meat) and fried lagman (noodles, with tomatoes, meat and other vegetables) – all delicious!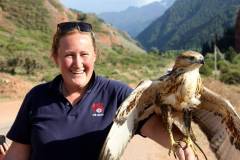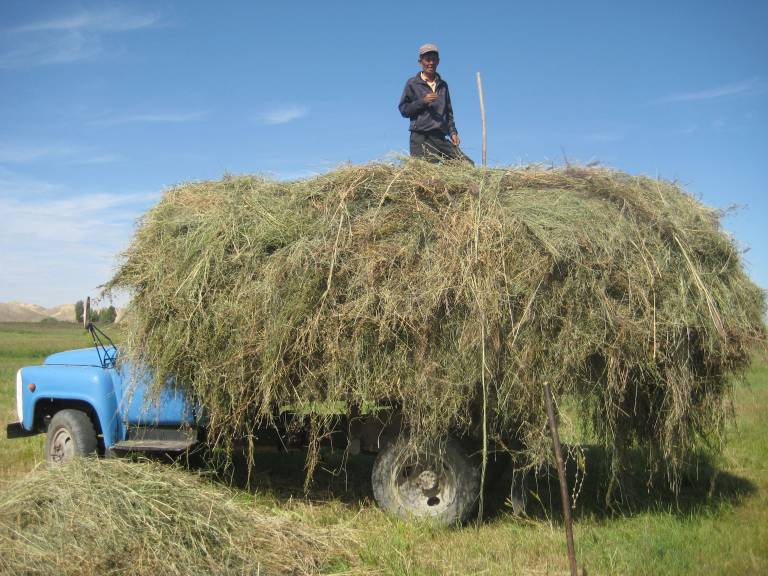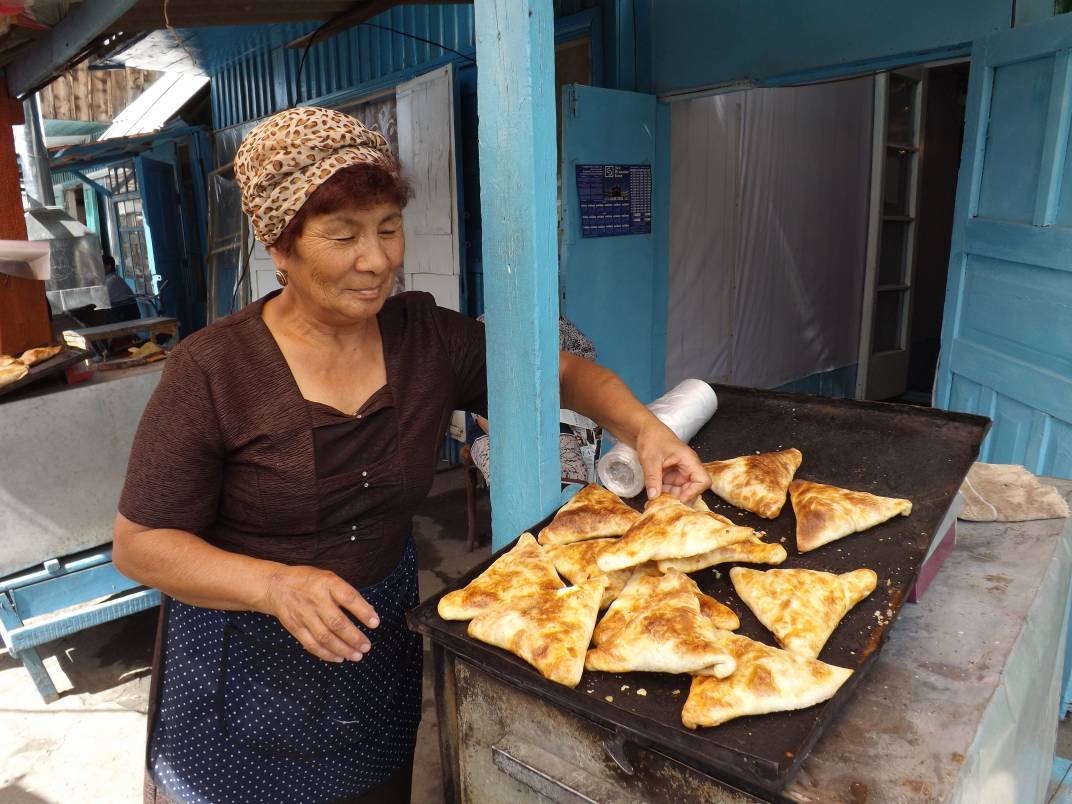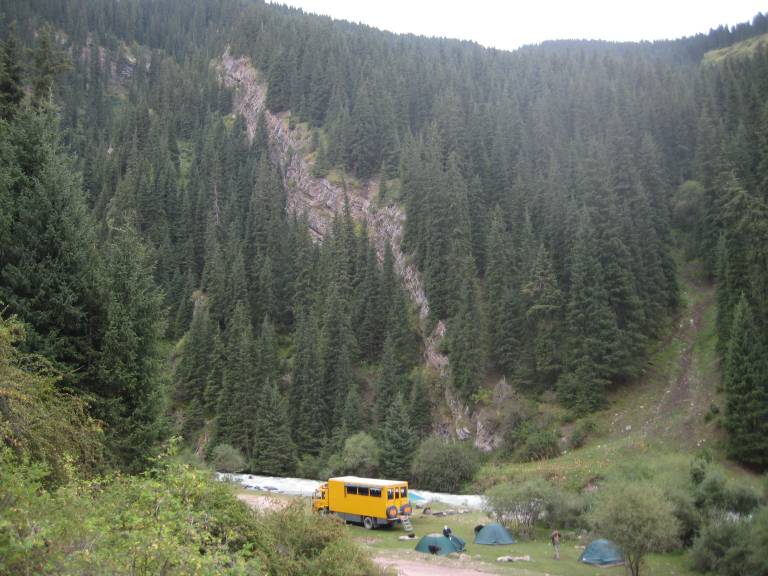 After a pre-departure meeting with our tour leader (Grace) and driver (Malcolm) we were all shown around our new home for the next 15 days (or more for those that were continuing on to Istanbul)…Our truck Habibi. Our first stop was in the centre of Bishkek so that cook groups could go off and get food for their meals, some needed to sort visas and the rest of us had some free time to explore.
So a few of us went to the Kyryz State Historical Museum (formerly the Lenin museum) in Ala-Too Square, while there are no English translations it is still well worth seeing, including the story telling murals on the ceilings. Leaving the vibrant city of Bishkek behind we headed to Ala-Archa park, which was just so beautiful , it almost felt like we were arriving into the Swiss Alps. Arriving early afternoon allowed us time to go and explore the surrounding area as well as set up our tents in our first bush camp. That first night I was very pleased to have bought my winter warmers as the temperatures plummeted as soon as the sun set!
After a lovely cooked breakfast we all set off for our own free days in Ala-Archa with a few of us heading up the mountain towards a waterfall, and for those feeling more energetic on to the glacial viewing point. I would say I am probably below average when it comes to fitness, so the first section of the trek was pretty tough, as it was very steep, and you are already at quite an altitude with basically no shade from the glaring sun. But the great thing was that you can do everything at your own pace and if you want to head back then you can. It took me over 2 hours to reach the waterfall, and the views were well worth it as you can see from the pictures. While others continued on trekking in the afternoon, I was able to do a few checks on the truck with Malcolm, as keeping our trucks in good nick is very important to us and is always very evident whenever you meet one of our drivers, who really take care of them at every opportunity.
Leaving Ala-Archa we headed back to Bishkek for a quick stop to pick up some more supplies, get the visas for those that needed them and our last City fix before heading out into the wilderness and towards Lake Issyk Kul. Driving along beautiful tree lined streets and with mountains on one side of the truck we started to see the edge of Lake Issyk Kul and its blue waters. We were in for a real treat as we pulled off the main road and down a track right down to the edge of the lake where we parked up and set up our camp for the night. This is a prime example of where 'bush camping' comes into its own, as you are not restrained by having to stay in a particular spot and you are surrounded by what the country has to offer, which in this case was the beach for our tents, the vast lake to go swimming in and the backdrop of mountains behind us and the shadowy outline of the snow capped mountains on the other side of the lake where we would be later on in the trip. The swimming in the lake was like heaven too, a shower overlanding style!
The following day we went on to see the open air petroglyph site, which is a large open area full of boulders and stones that have carvings on them dating back to 1500BC. Here we had a bit of fun testing our eyesight to see if we could spot carvings on the stones, as over time many have faded. Following this we stopped off in the town of Cholpon-Ata, where there was time to explore and pick up any snacks. and I decided to continue my cultural experience by going into the Cholpon-Ata museum, which was only 50 Kyrgy som. This museum really surprised me in that there were English translations about many of the artefacts and pictures. Before long we were on our way again to our next bush camp in Semenovskre Gorge, where once again we were treated to another great bush camp right next to a flowing river and some yurts. With time to explore the surrounding area we all set off to take in the different views and meet some of the people that lived nearby. Karakol was our next stop, where we all had a chance to explore, which included seeing the Russian Orthodox Cathedral, which was well worth the visit and very easy to find, and then on to see the colourful Dungan Mosque. We also took the opportunity to explore the main bazaar, which was huge, with many of the stalls/shops made up of large shipping containers (these were adapted all over Kyrgyzstan!).  Jeti Orguz was our next stop, with huge red rock formations , where once again we had a 'water feature' (river) next to our camp. Here we were able to wonder around the local town and explore the local tracks which led to the 'valley of the flowers' (sadly no flowers due to the time of year…but beautiful none the less!).
Continue reading about Katie's Kyrgyzstan trip in part 2