Details
Here is the next update from Nev & Kristy our crew running the Oasis Trans Africa expedition and a few members of the group of their tales and stories of their adventure.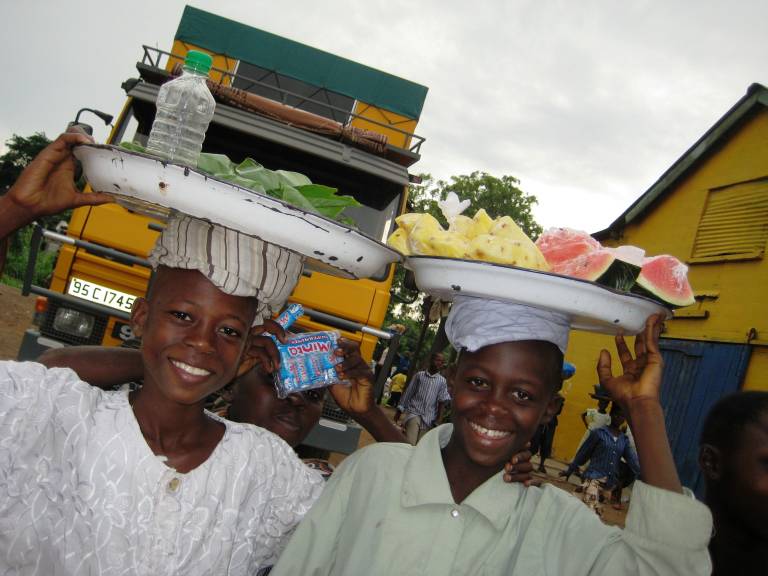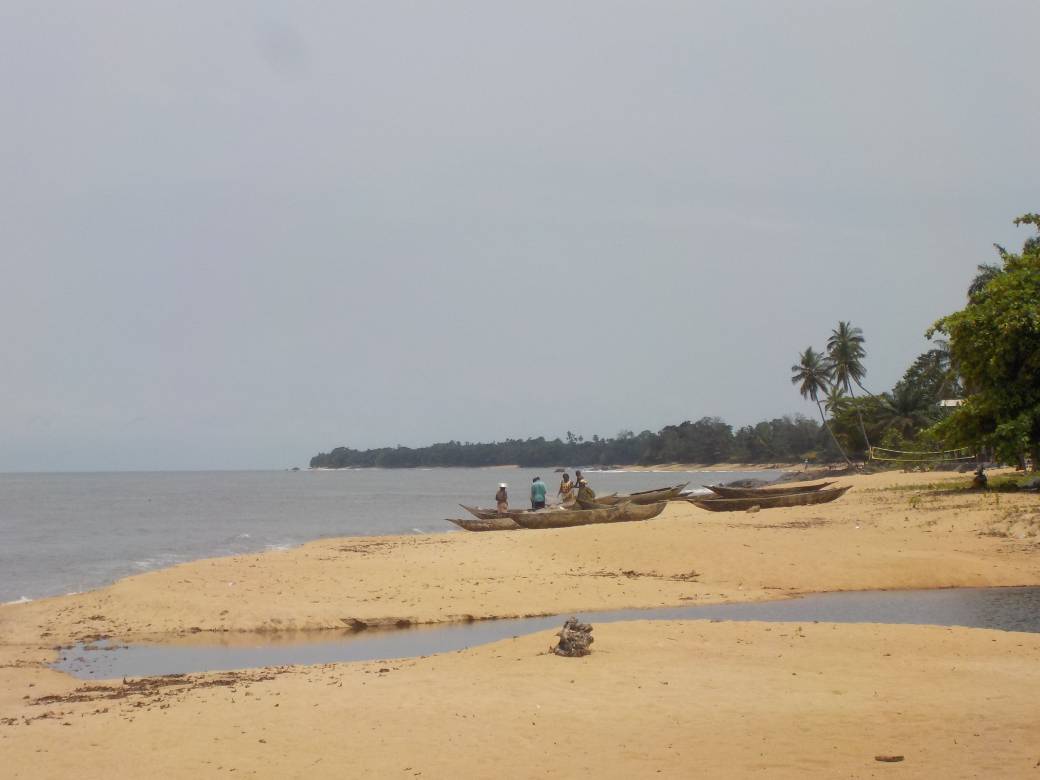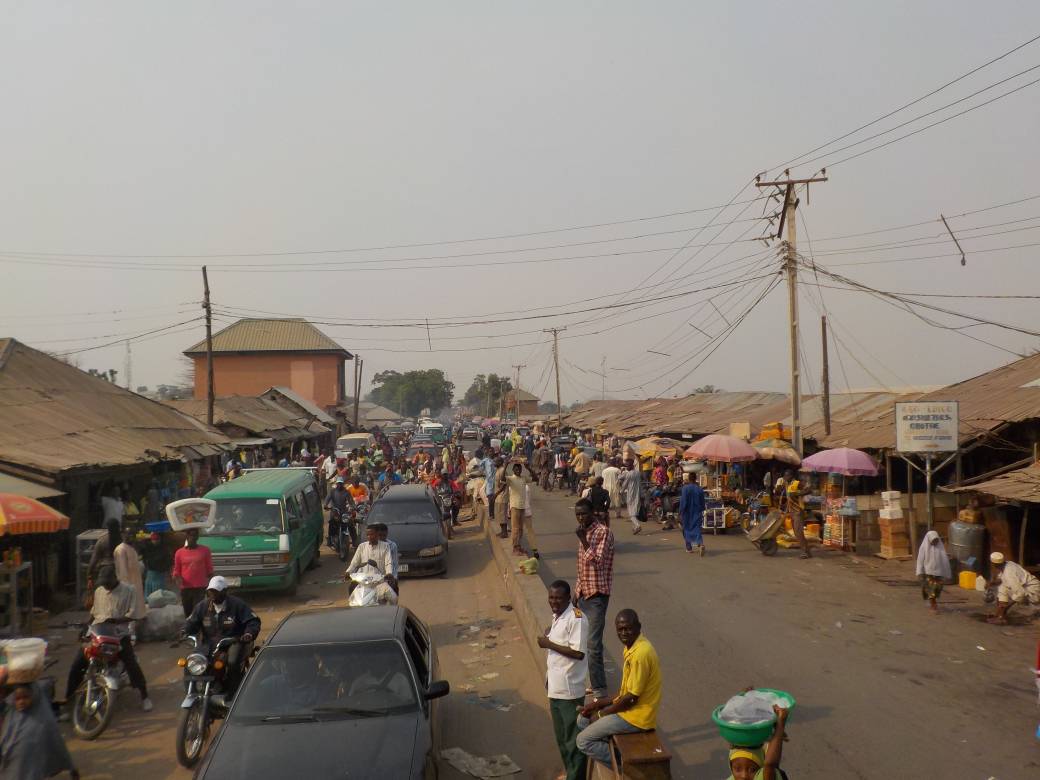 NIGERIA – By Kristy
We arrived to Nigeria with a little trepidation, given the recent violence within the country. We spent just over four hours at the small outpost border, with just one uniformed fellow working at half pace in the intense heat. The process was so slow that in the end I dragged a pen from my bag and began filling the official details myself. And when all was finally done, Nev and I were taken to the head honchos house to meet him, his overfed torso shirtless and reclining on an overstuffed velveteen sofa. Not exactly the picture of officialdom. And yet the inappropriateness continued as he requested we bestow him with a gift of his suggestion, namely the big yellow truck parked out front, and myself as a concubine! His authoritive tone and limited humour meant that once again Nev was roped in as resident husband, although I did seriously consider dragging forth Garrret, our burly Canadian, for the visually foreboding honour!
When we were finally cleared to depart the dusty outpost, albeit minus a litre and a half each of sweat, and with several more mosquito bites than with which we entered, we barely drove more than 10 minutes down Nigerias potholed dirt lanes before we were pulled over by more men in uniform and again had to endure the tiresome task of passport and yellow fever checking by an equally half paced team of government employees. This farce continued every 25 metres on and off for the next 2 days, the road cordoned off by felled trees, rocks, tyres, and even salvaged pieces of dead truck axles! And the truly ridiculous part was that most of these machine gun wielding officials could actually see us stopped at the previous roadblock!
In the end it took us 5 days driving and 4 nights sleeping in forests and disused quarries down bumpy dirt bush tracks to get to Abuja. The Nigerian roads were a shambles. Young men shovelled dirt and stones into gaping holes in the tarmac then spread their palm wide to be rewarded for their efforts as the lorries trundled past. Entire sections had melted beneath the harshness of the sun into which the trucks had rolled ruts that were ankle deep. There were large sections of potholes to dodge, and even larger sections where the potholes had all amassed together to form a bed of corrugated disintegrated tarmac, interspersed with the odd few kilometres of freshly rolled tar seal. Some roads were so bad that drivers had elected to create their own track alongside it. A few times we tipped the speedo at 80 km/hr, but there were certainly plenty of times when the needle sat well below 15 km/hr, and indeed a few times when women and children travelling on foot, and carrying bundles of firewood atop their heads were cracking a pace exceeding ours! And then there was the carnage – truck after car after truck, crashed, mangled, burned, and left to rot and to remind by the roadside. Not only were the roads a mess, but they were also overrun with maniac drivers, who buck and swerve and overtake blindly on hills and bends, and who speed and overload their vehicles, which more often than not were death traps held together by rope, duct tape and a prayer from Allah! The metallic carcases shouldn't really have provided such a surprise.
In contrast, arriving to Abuja was a breath of fresh air. As a new city and an even newer capital, everything seemed orderly and well maintained. Perhaps even a little sterile. In dire need of feeling human again we took ourselves of to one of the flashiest establishments in town – the Sheraton. Well at least to the football field out the back of the Sheraton where we were allowed to camp. We were however told by the manager to have a shower and wash our clothes before mingling within in the vicinity of other guests! What a sight we filthy overlanders must have been.
Whilst in Abuja we picked ourselves up Congo visas. We tried for Angola too, unfortunately without success. But we had a wonderful time nonetheless, and wearing our poshest attire made the most of the cold beer at the Sheraton's happy hour.
Heading south of Abuja the countryside was lush and green, with sugar cane, bamboo and banana plantations as far as the eye could see. It was populous too, with one village often merging into the next. The rural housing was unlike most we had seen elsewhere in West Africa – the primitive round mud huts nowhere to be seen, replaced by square shaped buildings made of logs or cement rendered brick, and topped with corrugated tin in various stages of rust, no doubt a remnant of the English colonial era. Traffic was often slow. Dead car bodies littered the main streets of towns, alongside garbage pits, and sometimes mosquito infested open sewers. Amid this chaos were small roadside huts selling such varied wares as mobile phones, firewood, bread, and coffins! Young men sauntered amongst the traffic hawking small plastic wrapped cards of mobile phone credit, whilst girls idled by, balancing buckets of boiled eggs or greasy dough balls atop their heads and small babies strapped to their lower backs. And as we passed rivers on the outskirts of towns it was hard to ignore the squeals of delight as children frolicked naked in the cool running water, whilst their mothers watched with only one eye from the banks, their focus on the arduous task of scrubbing the family clothes or dishes or infants bodies in buckets and the in shallows.
Time and again we were stopped by police, military, and traffic officers who demanded to see our "documents". We produced these, so then they wanted to see our fire extinguishers, reflective triangles, jacks, and when we also produced those they were disappointed. Meanwhile there were multiple cars void of mufflers, with empty headlight sockets, even the odd one missing a windscreen, who hooned past us as we were stopped. They persisted in vain to find fault with our vehicle, which in all fairness was likely the safest vehicle on the road. And when they could not find fault they would decide it must be illegal to have a steering wheel on the right hand side. And so would begin an attempt to extort money from us. Agghhh! But you see my Nigerian friends; we also know your rules.
Next stop was Calabar and the Paradise city hotel. Apparently, according to the faded sign out front, your first step to heaven. We didn't do a lot of exploring here. The mission to obtain Cameroon visas for the group took up a lot of my time, but the girls and I did find time to have tailored skirts whipped up for us in the local markets, and have our hair braided in preparation for the upcoming stretch of bush camping and potential mud digging our way into Cameroon.
With some of Nigeria off limits by the FCO, our final stop was the Afi Drill Ranch, a conservation program for the endangered drill monkey, where we enjoyed such spectacles as the chimps throwing their poop at us, and the male drills boldly enjoying the foreign girls in shorty shorts! We departed Afi speckled red from head to toe, and crazed by the itch of a thousand bites of sweat bees!
CAMEROON – By Katie…..
At 2000 and something metres, in a rat infested shack with a corrugated iron roof, with hay on a large flat wooden board for a bed and the wind whistling through every tiny opening, I wonder whether my decision to climb Mt. Cameroon was a good one. This is night one of a 3 day, 2 night trek up West Africa's highest mountain, and at 4095m is the highest I have ever been. I snuggle down in my sleeping bag with my 4 bedmates and try to get some rest before the climb to the summit in the morning.
After an uncomfortable night and a breakfast of a tin of beans cooked in the can on an open fire, we set off. The path is immediately steep and the terrain of volcanic rock unforgiving. Our group of 11 quickly spreads out along the path as we set our own paces. Breathing becomes laboured as the altitude and months of inactivity take their toll. It is with relief that we make it to the final hut which marks the start of the final ascent and the end of the really steep section. It is bitterly cold until the sun comes out for a fleeting moment and we lie on the grass basking in its warmth.
An hour later we are on the summit in a swirling mist and buffeting wind that makes it difficult to stand. When the cloud clears for a few minutes, the view is spectacular, however we don't linger for long as there is nowhere to shelter and the wind is unrelenting. Heading down is much quicker than the way up as the first part is steep scree that we can run down. This gives way to a lava flow from the 1901 eruption that is tough on the ankles to walk on and looks almost like coral as covered in colourful lichens. This quickly becomes tiring and as the lava gives way to savannah and we wonder whether the end is anywhere in sight.
Luckily we are close to the end of the 10 hour hike as there are a few creaky knees, shaky legs and blistered feet amongst us. We are all drained and it is all we can do to cook up some instant noodles, cup-a-soups and crash into our tents by about 7pm.
The next morning we are up at 4.30am to commence the long slog back to civilisation. It is pitch black and we all stumble over tree roots as we wind our way through the forest. As the first glimmers of dawn approach we traverse more lava flows and eventually reach the edge of the forest.
After an arduous downward hike through the rainforest, we approach the wooden houses that mark the edge of a village and see a group of people crowded outside the front of one. We wave at them and they beckon us over. They are drinking palm wine and want to share it with us – it is 11am! We gladly partake in a few sips before walking the last 100 metres to the end point – a bar of course! We each have a few celebratory beers whilst waiting for the rest of the group to arrive. On the tiny TV on the bar the Race of Hope is on. This is a running race up and down Mount Cameroon that happens every year. What we had managed to struggle through in 3 days the winner accomplished in 4 hours!
The next few days are very painful for everyone that climbed as we deal with altitude induced hangovers, sore muscles and blisters.
Kribi is our final destination in Cameroon, this is a laid back beach town where we mark the 100th day of the trip and an enormous feast with 2 succulent spit roasted piglets. On our final night in Cameroon on the way to the Gabonese border, a tribe of pygmies turns up. Friendly at first, they soon start demanding payment first in cash then in food and alcohol. We flummox them by packing everything up and saying we are going to bed – at 6pm.
Look out for the next episode and many more tales and adventures to come from Africa soon!