Details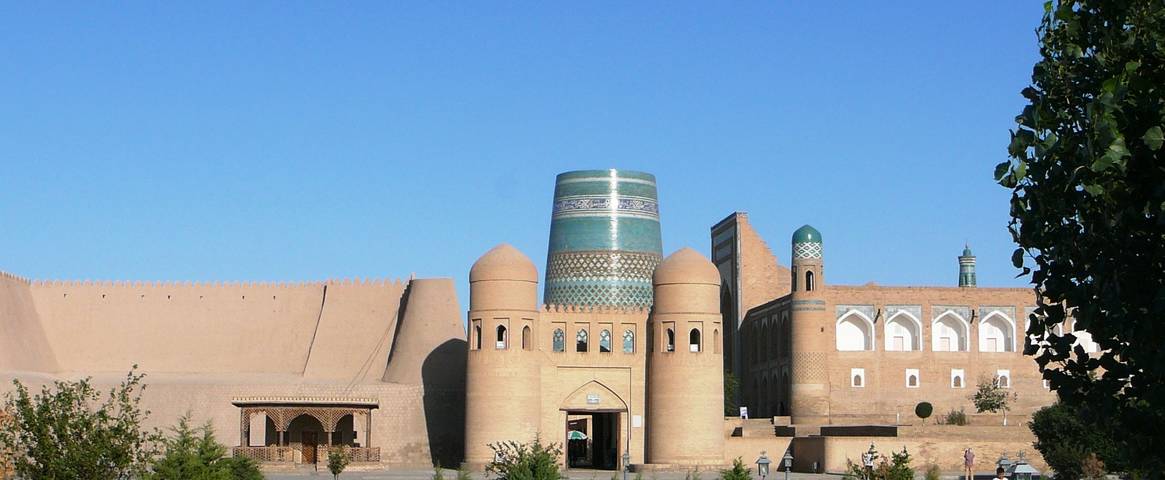 Three weeks, four countries, and a trip into the deep heart of Central Asia. Sound like your type of trip? Read on to discover more about our Silk Road Highlights Expedition to one of our favourite destinations. 
Many people have heard of the Silk Road, but most of them struggle to name the modern-day countries that the ancient trading routes now travel through.  Uzbeka-what? Turkmenojikistan?!  This legendary network of paths and roads once made up the bridge between East and West, and the everlasting history encapsulated in this region is felt by all who travel through.
In stark contrast to the elegant antiquated jewels of cities you associate with Central Asia, your first stop on this trip is modern day Ashgabat, Turkmenistan's capital. Built almost exclusively in white marble, this city is often referred to as "weird", or "bizarre". With its airport designed as a flying bird, it's well worth your time.  A city tour is included – and needed, just for someone to explain why there are so many gold statues of the president, or why there is a ministry dedicated solely to horses…?!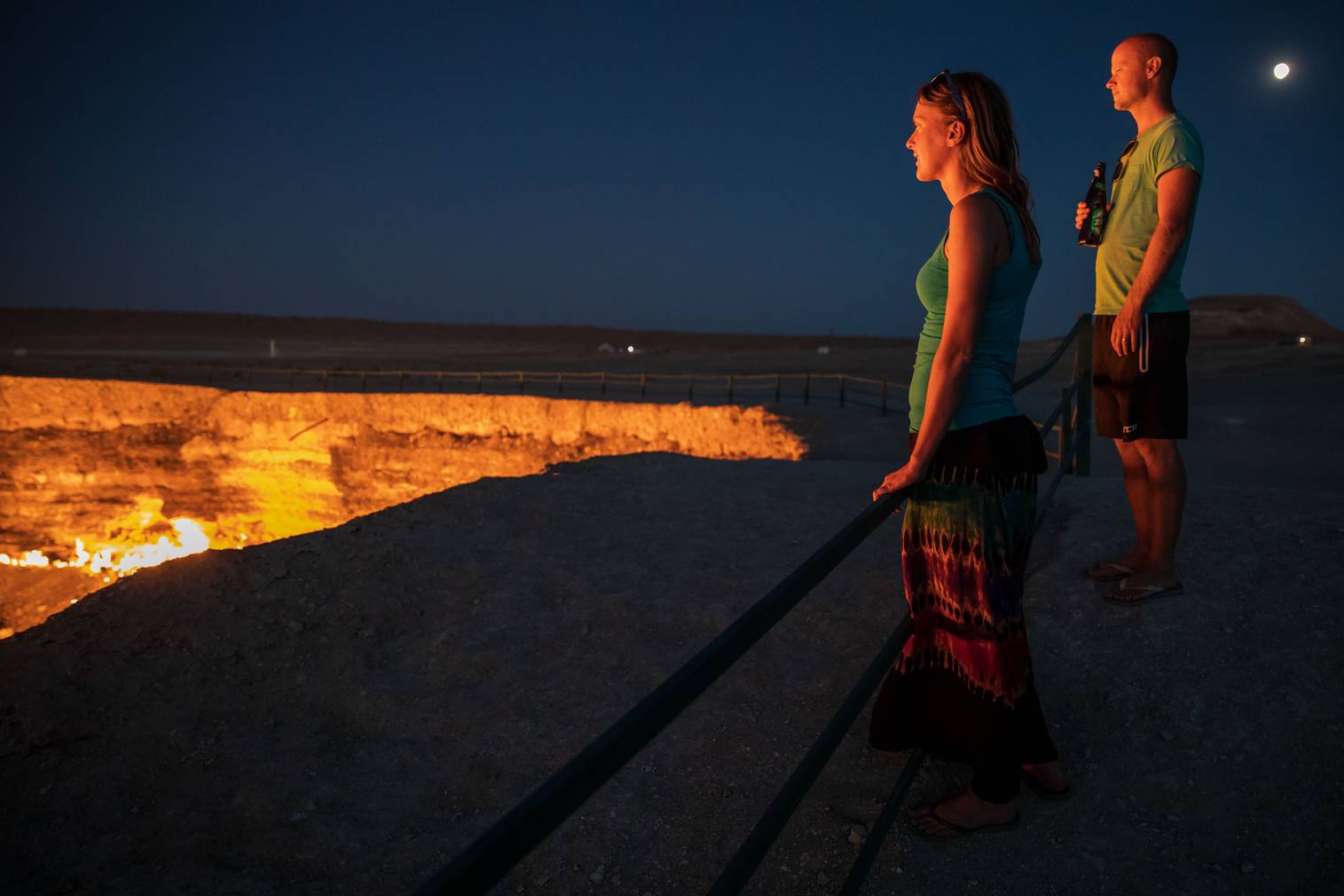 Cities not your thing? Not a problem; the Oasis Silk Road Highlights trip does what it says – it visits all the highlights of this magical region, including those more off the main path. And you really do experience the meaning of 'remote' when you travel to Northern Turkmenistan.  Orange sand dunes, sand speckled shrubs and herds of camels are the scenery that greets you throughout your journey to the Gates of Hell.  Darvaza Gas Crater continues to attract a steady chain of interest, despite not appearing on the 'suggested' government tourist schedule. Once night falls, you'll realise just how worth it the drive was. Getting close to this intense burning crater of fire is a feat if just for the temperature, and it's unlike anything else in the world. 
Your desert experience will test your endurance as you continue through the sand to Uzbekistan.  The previous life-giving waters of the Aral Sea have been diminished to almost nothing, and the remaining ship carcasses make for incredible photography (and a playground for those who like climbing!).  History is still a touchy subject in this region, but again, you're travelling far off the beaten track into forgotten areas of countries that once served such as part of such an incredible trade exchange.
While the legacy of Soviet Control still exists in many parts of Central Asia, the history and mystic of Khiva, Bukhara and Samarkand shine through. While there's less of the trading post and more of the modern city feel about them, these cities in Uzbekistan still cultivate their older parts of town where the tourists congregate. Bursting with mosques, medrassahs and minarets, these sites are famed by their blue tiles of all hues glittering in the sunshine. The local markets here are some of my favourites along the whole route. 
As you travel further East, the dusty expanse of desert gives way to green rolling hills and horses start to populate the view. Kazakhstan also features on this trips' itinerary, where travellers try their best to spot the elusive golden eagle and ibex while hiking or horse riding through the beautiful Aksu-Dzhabagly nature reserve. The Mongols boast a lot of history of this region, and who doesn't want to pretend to be as masterful as Genghis Khan?!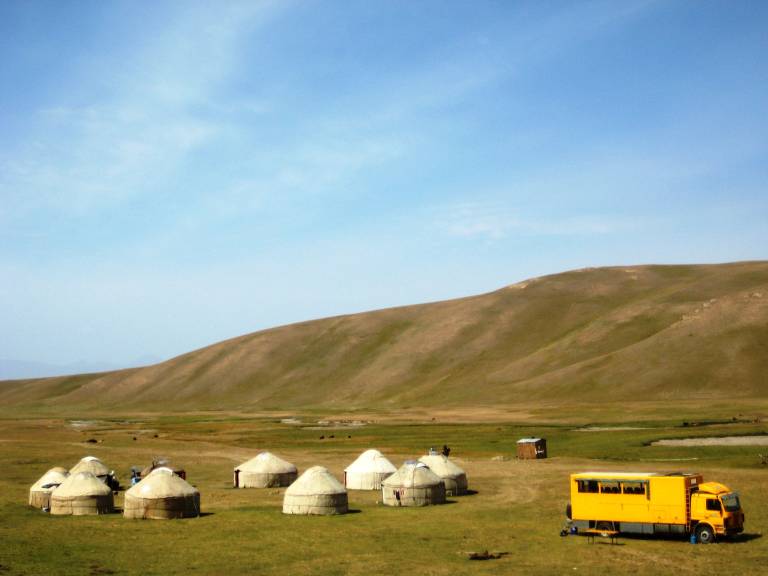 The Tien Shan mountain range (locally known as the Mountains of Heaven) in Kyrgyzstan provide an incredible backdrop to your adventure here, whether you choose to end it in Bishkek for our 20 day adventure, or extend your trip to include more of this fabulous emerald of a country. Always a favourite, its snow capped peaks host horse riding, hiking and all manner of outdoor activities – you can even enjoy the thermal springs! You'll bunk down in a traditional yurt to really experience life like a traditional nomad, and it's worth braving the cold to gaze at your star studded ceiling. Survival out here relies on horseback, and our travellers are often able to catch a game of Kokboru or Buzkashi, Central Asia's famous goat polo.
My only advice: make it quick! Central Asia, despite its countries being unpronounceable by most, is slowly starting to emerge onto the radar. Tourists looking for "something different" are starting to sit up and take notice. By all means join them, but do it overland with Oasis, where we can ensure you experience the best the Silk Road has to offer! Contact the team to find out more or for inspiration on doing a longer trip with us!