Details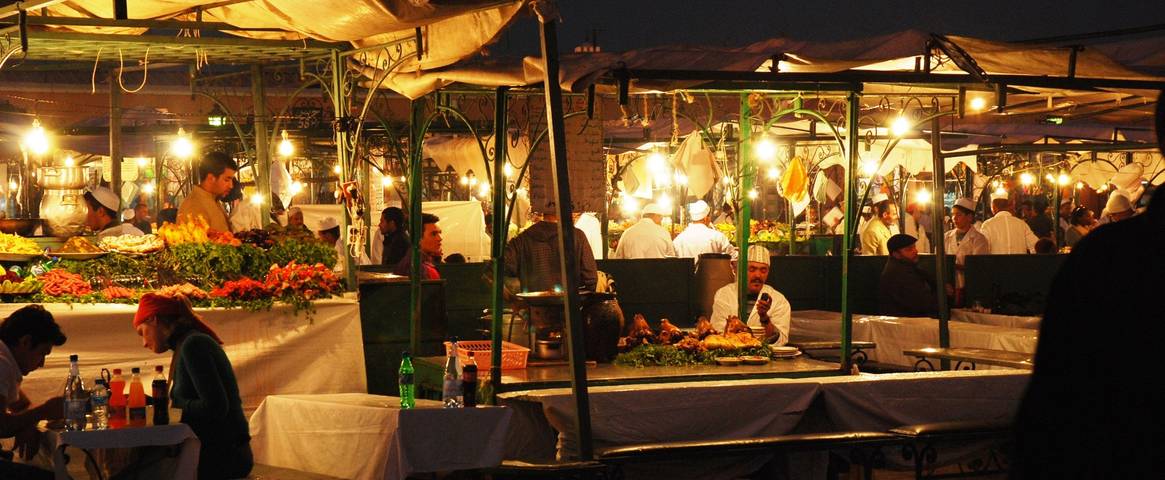 Located in the North of Africa, Morocco is a popular destination for all travellers including families. Full of colourful culture, vibrant communities and beautiful sunny weather, it's easy to understand why people love it so much!  If you haven't yet been, it really should be high on your destination wish list!
Morocco's intoxicating mix of sounds, aroma and colour welcomes you. There is so much to see and do, that the only thing that you may struggle with is deciding what to do next!  The ancient labyrinthine medina of Marrakech, the astonishing landscape of the Atlas Mountains and extraordinary Sahara Desert scenery are not to be missed.
We offer a selection of Morocco trips;
For those travellers with limited time enjoy the Morocco Express, a perfect short break of just 5 days or for those with longer you can enjoy a 15 days treat by booking the Morocco Encompassed trip.
The Imperial Cities of Fez, Rabat, Marrakech and Meknes have all been capital of Morocco at some time, so each of them each enjoy historical importance.  Whether you want to see palaces and churches or mosques and museums, you can spend weeks exploring the culture of these places, the wonderful sights and sounds are never ending.
Add that to the other exciting places we offer on our trips, and your time will be full of history, scenery and relaxation, what's not to like?!
Here are some of the highlights and places to visit when you go to Morocco…….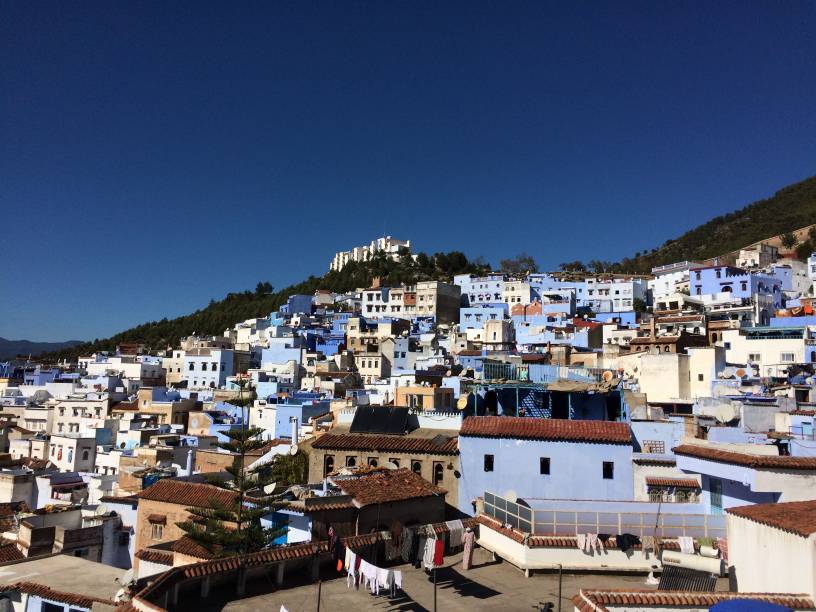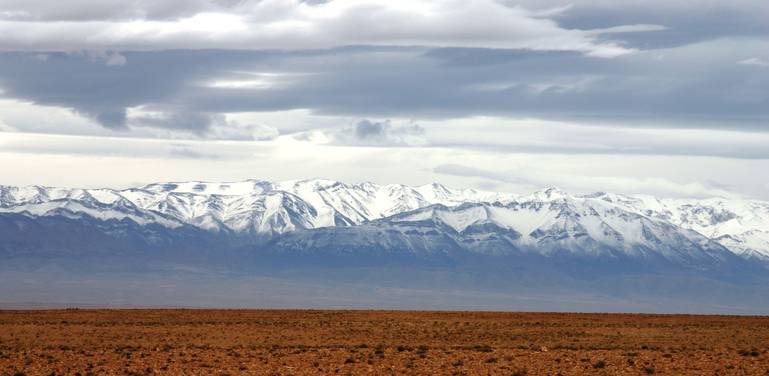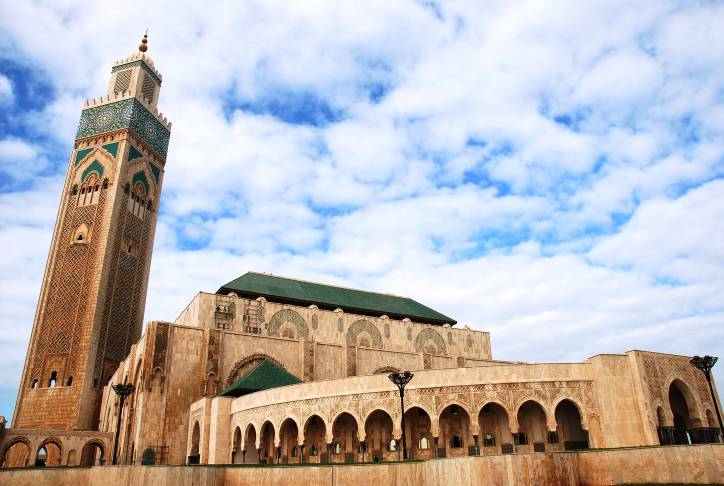 Marrakech is a great imperial city, unique in the Arab world for the chance it offers to experience city life, which in patterns and appearance, remains medieval for the most part. The atmosphere of the city rather than a long list of sites and monuments is what attracts many visitors.
The name Marrakech conjures up images of magic carpets, snake charmers and spices all brought in on camel trains. Set within the rose-coloured walls of the medina lies a reality that is not that far removed from an exotic film set – a tangle of winding streets that open onto verdant gardens and dark alleyways that lead to bustling souks.  You can explore the central square, the Djemâa-el-Fna, an extraordinary gathering and market place. It is full of colour, spicy aromas and traders and is worth visiting in the evening when it's overflowing with food stalls and buzzing with dancers, acrobats, fortune tellers, musicians and henna artists. Towering over all this is the Koutoubia Minaret, the tallest building in the city, and a reminder of the importance of Islam to the lives of the city's residents. 
The stunning Atlas Mountains stretching the length of the country, dominate the interior of the country and are accessible from the foothills of the High Atlas which can be reached in just an hour from Marrakech. They offer fantastic trekking with walks to suit all levels of ability.  Berber villages are on terraces, clinging to the sides of the mountains. The network of paths are used by locals every day and offer you an insight into real mountain life.
When you visit the Sahara Desert Berber Camp you are offered the opportunity to trek on camels into the desert, enjoy a Berber meal and relax under the beautiful Saharan starry sky. 
Casablanca, bordering the Atlantic Ocean is Morocco's main port and the largest city in the country, again offering something different for travellers with its share of older neighbourhoods showcasing French colonial and Moroccan architecture. Whilst not as atmospheric as other cities in Morocco, this is where business prospers as it is the industrial, economic and financial centre of the country.
Meknes  includes the spectacular  Bab Mansour, a huge gate with arches and mosaic tiling, the 12th century Grand Mosque and the Mausoleum of Moulay Ismail, the resting place of the most famous and notorious sultans of the country. 
Fes, the most ancient of the imperial capitals is the oldest and largest medieval city in the world. Its medina-city of Fes El Bali, is believed to be one of the world's largest urban pedestrian zones, with only donkeys and bikes as means of transportation and is a heady mix of aromas, sights and sounds. There are plenty of mosques and palaces to visit. After exploring the dye-pits, tanneries, pharmacy, pottery and restaurants, you can enjoy a traditional meal and live Moroccan entertainment including traditional and belly dancing.
The coastal city of Tangier, also known as the 'white city' is located at the western entrance to the Strait of Gibraltar where the Mediterranean Sea meets the Atlantic Ocean. It is a lively city with a mix of cultures, both European and Moroccan. There are many historical highlights you may wish to visit in the city, including the Grand Socco – which is the romantic entrance to the Tangier marketplace, Kasbah – a museum that is housed in the former sultan's palace of Dar El Makhzen, or the Caves of Hercules – named in homage to the Greek hero Heracles (Hercules in Roman mythology). Or you may simply wish to get lost in the winding streets and alleyways of the medina, or take a beachfront stroll. 
Essaouira is a striking blue and white fishing town enclosed within sea front fortifications called the Skala de la Kasbah. Great beaches and surf beckon.  Completely different from the other places you visit, this is an enjoyable base to unwind, and is perfect for enjoying a casual stroll around the medina. For the adrenaline seekers there are optional extras such as wind and kite surfing due to its infamous wind!
For a trip that is rather different from the norm, the Berber Migration Tour is a unique trekking expedition which is like no other. 
One of our favourite trips on offer with Oasis Overland is an exciting journey beginning in the heart of Morocco, in the city of Marrakech. You will join a Berber family and their farming animals as they head on their bi-annual journey to new pastures, trekking through the High Atlas Mountains and seeing unmissable sights including breathtaking panoramic views and picturesque valleys. You will visit Berber villages and have the opportunity to enjoy traditional Moroccan food and relax under the beautiful starry skies. Not only is this trek filled with traditional culture that can rarely be experienced so closely, it also shows you the wonders of Morocco's landscape through the eyes of those who use its land. It really is a trip like no other! 
Morocco provides a never ending trail of excitement and places to explore catering for all needs in your group and is particularly suitable for family holidays. We have 3 trips that cater for families,
Souks and Sand Dunes and Souks, Sand Dunes & Surf for those with children aged 5 to 16 years and the Marrakech and Sahara Teen Tour for 12 year olds and above.
Our trips are run in conjunction with a local operator. All of the guides are English speaking and experienced. They are knowledgeable and passionate about the history and culture of their country and are always ready to provide information and explanations of what you are seeing and experiencing.
Contact us today to find out more and to book yourself a lifetime adventure with Oasis Overland to the magic and excitement that is Morocco.