Details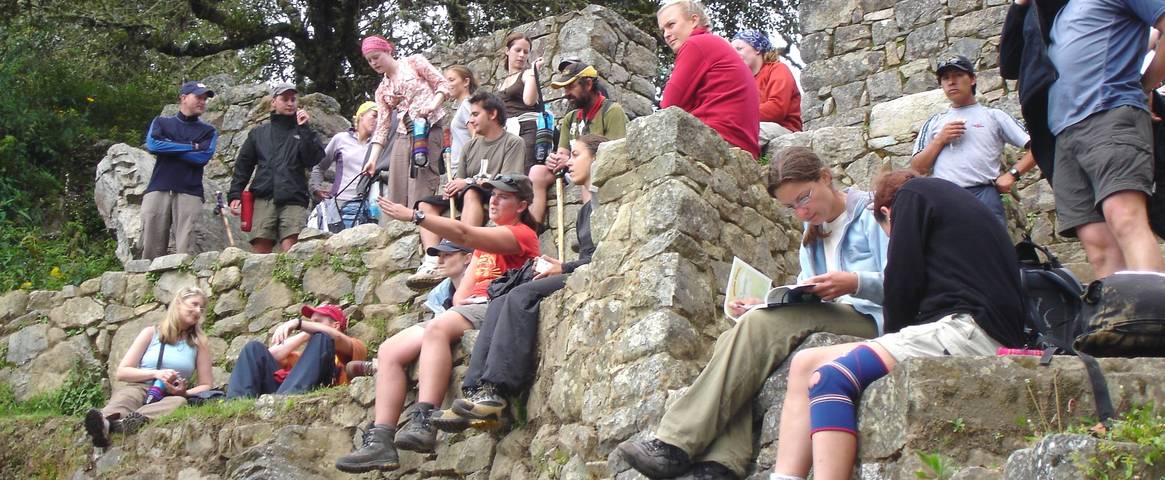 Trekking the Inca Trail to Machu Picchu is a dream for many travellers, not only those that regularly trot up the nearest mountain but even those for whom walking to the pub constitutes regular exercise.
It's not only your level of fitness you need to think about. Places are limited on the actual trek and Machu Picchu is likely to become more popular than ever now that it is one of the New 7 Wonders of the World. So you need to plan ahead and book your Inca Trail tour early – then you'll also have time to start getting into shape!
Machu Picchu Tour Permits and When to Go
Anyone who treks the Inca Trail needs a permit bought in advance. If you're doing the Inca Trail trek as part of your overland trip to South America, your operator should be able to advise you at the time of booking about Inca Trail availability. It's difficult to say how far in advance you need to book for this tour to Machu Picchu. At least 3 months is the general advice, however particular dates have been known to fill up 6 months beforehand, so book as early as you can!
June, July and August are the busiest months as this is the dry season which means cloudless skies and incredible mountain views. November, December and January are the quietest times during the rainy season, but you shouldn't dismiss going at this time of year. The Inca Trail trip will be less crowded, it doesn't necessarily rain all the time and it's an awesome way to spend Christmas or New Year! The Trail is closed every February for track maintenance. The remaining few months can be good times to trek as it's not quite as crowded as July nor as damp as December and flights are a little cheaper.
Alternate Treks
So what happens if you've already booked your flights or set your heart on your intrepid trek for a particular time – only to find the Inca Trail is fully booked? Don't panic! There are Inca Trail alternatives. The Incas themselves made many trails and these combined with visiting local communities or seeing different mountains and valleys in the region can make for fantastic treks. And don't forget, the 'Classic' Inca Trail takes up to 500 hikers a day but on an alternative trek you'd be lucky to see half this amount. Here are a couple of examples:
The Lares Trek takes 4 days, that's 3 days of hiking and the last day of your trip at Machu Picchu. The walking is not too demanding and you visit small weaving communities along the way. On day 3 you take the train from Ollantaytambo, a town in the Sacred Valley with fantastic Inca sites, up to Aguas Calientes, the nearest settlement to Machu Picchu. The next day sees you up before dawn to catch the first bus to the ruins, where you'll arrive to see the sun rise and clear the mist from the mountains to give you one of the best views of your life.
The Salkantay Trek is harder and usually takes 4 days of trekking before your day at Machu Picchu. The steep slopes are worth it though for the incredible views, most notably snow covered Mt. Salkantay and horses are used to help carry some of your belongings and camping gear. You trek all the way to Aguas Calientes, again in time for the dawn bus to Machu Picchu.
Preparing For the Inca Trail Trip
So, going back to that regular walk to the pub… it's a good idea to increase your fitness at least a little before you embark on the trek, although anyone with a good level of fitness can master it. If you can do some hill walking, that's ideal but even going to the gym more often or finding a steep street to jog up will help. Many people who do the trek without any preparation find it a hard 3 day slog rather than the awesome enjoyable experience it should be.
One thing that even the fittest person could have a problem with is coping with the high altitude you'll be walking at. It's a good idea to spend a couple of days in Cuzco, to acclimatise before your trek. Other advice includes drinking plenty of water and avoiding alcohol. Anyone can suffer the effects of being at high altitude (Acute Mountain Sickness), no matter how fit you are and it's important to tell your guide if you're feeling unwell.
On the Inca Trail
So, you've booked your trek, you've run up your stairs 20 times a day, you've packed your bags and finally you're in Cuzco, Peru, about to embark in the footsteps of the Incas! Your operator should be able to tell you how the trek will run but to give you an idea, you will generally walk between 5 and 8 hours a day, probably just carrying a day pack with necessities such as your camera, water, sunscreen, waterproof jacket, etc. Porters usually carry the rest of your gear although you won't need to take much – a change of clothes, thermal underwear, a 4 season sleeping bag and a sleeping mat are the essentials. There are no showers en route but there are toilets at the campsites – during the day as you're walking, you'll have to find a 'natural' toilet!
Don't worry about keeping up with the fast walkers in your group, there should always be a guide or porter with the end walker. Cooks accompany the trek and dish up some amazing meals. At night, you can star gaze, talk about the day's adventure and most importantly, get a good night's sleep! It gets very cold at night, extremely so in July and August (below 0) so it's really important to have warm clothes and a 4 season sleeping bag.
A Tour of Machu Picchu
Arriving at Machu Picchu, whether at the end of the classic Inca Trail trip or from Aguas Calientes, is the icing on the cake. The site is quite large – as well as the main part of the ruins, there's the 'Inca Bridge', a dramatic road cut into the cliff side; if you haven't done enough walking already you can climb up Waynapicchu for an aerial view of the ruins and if you didn't arrive at the Sun Gate, it's worth taking a stroll to. You might want to sit in one spot and savour your surroundings. Either way, all the planning, preparation and uphill walking will have been worth it!
At Oasis Overland, Inca Trail tours are included in all the following adventure travel trips: