Details
London to Mongolia in an Old Ford Fiesta - Part 2.
The 'Stans' are without doubt something that need to be seen to be believed. From the grandeur of the Registan in old Samarkand to the madness of gold statues and marble in Ashgabat, you really are the centre of attention in these little travelled areas.
Kyrgyzstan was quite a surprise to us, as we'd only planned to blast through.  The crystal clear blue lakes and stunning mountain scenery certainly caught our attention and again I wished we'd had more time to explore Lake Issyk-kul.  Here, where once the Russians tested their submarine torpedoes, has now become an outdoor enthusiasts playground with walks, biking and horse riding in the nearby Terskay Ala-Too Mountains.

Our journey wasn't without a few mechanical issues.  We had decided that I was to be mechanic and Andy the cook – this would mean our own areas and we also hopefully wouldn't starve or breakdown too much (a real possibility had we reversed roles!)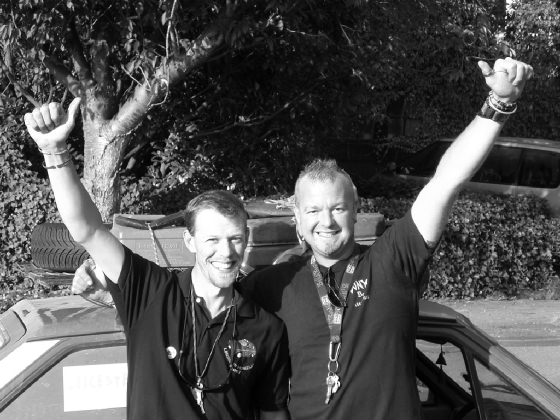 Apart from fully leaded fuel in Iran making Lotta cough, and a broken spring in Russia, we had done quite well.  However, with the onslaught of Mongolian tracks and the warning word of the border official (disaster) Lotta started to take a beating.  Our second back spring broke and we completely lost our left hand side brakes along with a tyre.  We bodged things together, but driving and braking on gravel, mud and sand with no suspension and only right hand side brakes, takes a bit of getting used to!
Our river crossing is still one I hold our little car in high regard for – with water up to the headlights and water pouring in the doors, Andy managed to get Lotta through, while I waded across looking for the deep spots!
Our intention was always to leave the car with our chosen charity in Ulaan Bataar, but sadly customs had another view and after a fairly long conversation with the boss (thank you!) we turned Lotta for home via Russia.  The M53 in Siberia broke both our front springs and I really must apologise to the guy selling honey on the side of the road, who was most surprised to see a little red car coming right towards him, undertaking a line of trucks.  Oh, and the policeman who chased us in his Skoda and told us to turnaround (I think) in Russian, but we just got a map out and said we were going the other way!
We made it back with £8500 raised for charity (split between Leicester Heart Hospital, Wiltshire Air Ambulance and the Lotus Child Orphanage) and are still boring friends with our adventures!  It was a sad day when Lotta left the yard for a mere £250, but things had come full circle and our little car was off on another adventure.  This time to teach a 17 year old how to drive…."
If you want to follow in Mark and Andy's tyre tracks, why not sign up to our Exploratory Silk Road Trip.
Andy will be making a guest appearance on this trip by manning the second truck, carrying the Japanese Film Crew, so you can check all the above is true