Details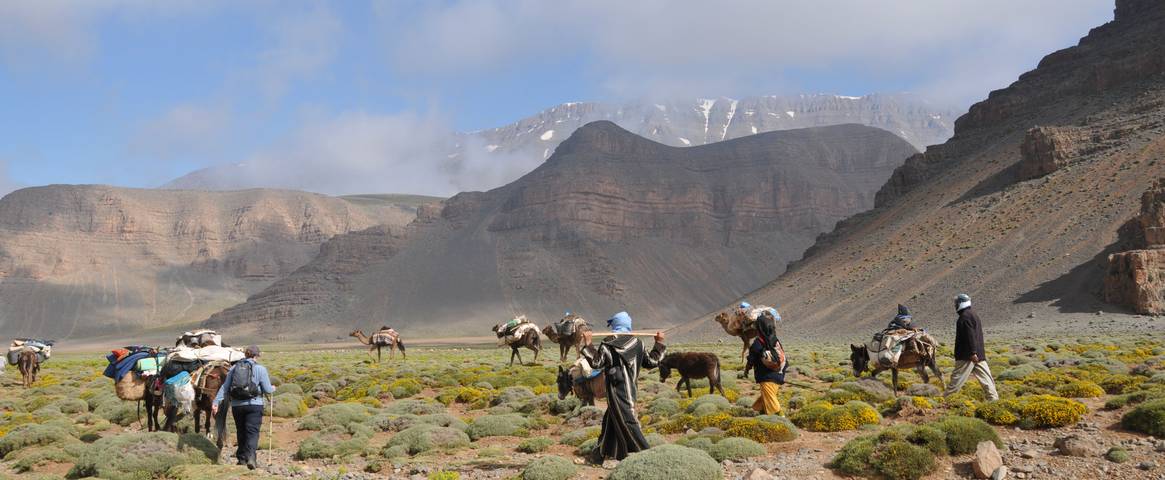 Jackie, from our UK office, has just returned from our 11 day Berber Migration Tour in Morocco. Travelling by foot across the Atlas mountains for 6 days with a Berber family, as they moved their goats, sheep, mules, donkeys and camels from winter to summer pastures and camping out under the stars this is certainly a trip to treasure.
The scenery on route is spectacular, ranging from rocky, mountain-hedged river beds to the lush green Happy Valley, even passing snow! Generally, walking began by about 8am and the group stopped and set up camp by the afternoon. After a substantial lunch and plenty of Berber tea the afternoons were free to relax, take a stroll, 'foot spa' in a nearby stream or have a cookery lesson with Baichou, the fantastic camp chef. Evenings were spent dining, chatting and singing with our trekking guides . (They did the singing! Excellently accompanied by drumming on the jerry cans and plates!)
The highlights of the trek for Jackie were the breathtaking scenery and remoteness of the mountains plus being invited in for tea with other nomad families. 'The hospitality was humbling. They would just call us over and in we'd all troop for a very welcome break, whilst the careful tea-making process was undertaken. Via our guides translation services we would learn a bit about their lives, sipping sweet tea before setting off again on our trek.'
This trip also gives you a few days in Marrakech with plenty of opportunity to explore the myriad sights-the Unesco acclaimed Djemaa el-Fna with it's story tellers, musicians, snake charmers and merchants; Bahia Palace with it's stunning opulent ceilings and architecture, Yves Saint Laurent's Jardin Majorelle and of course, the labyrinthine souqs.
Stop-overs are also made to the majestic waterfalls at Cascades d'Ouzoud and the red mud-brick kasbah at Ait-Benhaddou-practise your Lawrence of Arabia; Gladiator and Jesus of Nazareth poses here as they were all filmed at this impressive site!
For those of you interested in this trip and worried about the level of walking Jackie is in her late 40's and not particularly fit! (Her description-not ours!) She did however do some training prior to the trip-walking and cycling. She describes the terrain on the trip as being 'tricky' at times-along the loose rocks and stones of the dried river beds in particular.
For those interested in the stats: the trek covered a distance of 52 miles in total, with walking days ranging between 4-7 hours (including breaks). The starting altitude was 1645m and the end point was 2141m; the highest point reached was 3100m. The group averaged  a fairly constant walking pace of 2.1 miles per hour.
If you are interested in this tour why not call the office and speak to Jackie. It really is a unique trip, which provides a fascinating insight into a way of life that is rapidly disappearing. Our next departures are 23rd May and 19th September 2020. Due to the migratory nature of this trip it only runs twice per year-in May and September.