Details
If you're anything like me (a wannabe geek who is easily distracted from "clever people" books, but still loves to learn about the world), then you also search for a "reading list" about the places you're travelling to. Whether nonfiction or fiction, sometimes it's nice to delve into stories and facts that can help you understand more about the history or culture in a new continent.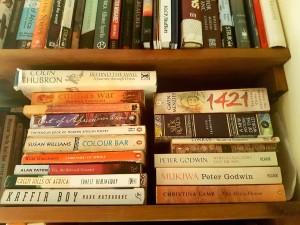 I decided to put this list together because I have worked for Oasis for a while, and within that time, I've done a lot of reading! I'm sure there are other lists out there to cross reference with, but I've enjoyed learning and escaping within all of these books.  Some of them have made me angry, some of them have inspired me, some of them have bored me (sorry, I have to be honest!), and some of them have made me so excited I want everyone to read them! So wherever you're looking to travel, or perhaps you've been and want to return there, take a look at the list and see if anything tickles your fancy….. Happy Reading! ?
AFRICA – I worked here the longest, so this is perhaps the most comprehensive list.
It's mostly nonfiction because I became fascinated with how complex this continent is.  There are some older books about the whole continent, which I still love, and others which concentrate on one country. Colour Bar – Susan Williams (I have loved Seretse Khama since this book, and now the movie United Kingdom is giving others the opportunity to do the same!) The Power Of One – Bryce Courtney (A fictional story that I've read again and again, about one boy's struggle through apartheid South Africa ) The Poisonwood Bible – Barbara Kingsolver (A story about a missionary family who move from the USA to Congo…and all that they learn and endure) Mukiwa; When a Crocodile Eats the Sun – both by Peter Godwin (both these books helped fuel my fascination for Zimbabwe and where it's heading.  He's got another book out now too). Whatever you do, Don't Run – Peter Allison (this will have you in stitches; a fun collection of tales about working as a safari guide) The Africans – David Lamb (a very old book but still admirably relevant and interesting) King Leopald's Ghost – Adam Hochschild (to remind you how cruel colonialisation really was) Long Walk to Freedom – Nelson Mandela (it's a classic!) Dark Star Safari – Paul Theroux (almost a "must-read" if you're travelling from Cairo to Cape Town) Blood River; Chasing The Devil – both by Tim Butcher (great expeditionary tales with historical updates along the way) Africa: Altered States, Ordinary Miracles – Richard Dowden (factual but readable; it'll teach you about this crazy continent) Emma's War – Deborah Scroggins (The love story of an aid worker and a War Lord…. great read!) Out of Africa – Karen Blixon (An old-school classic!) Heart of Darkness – Joseph Conrad (This is on "Books you must read" list all around the world) Cry the Beloved Country – Alan Paton (An oldie but an interesting book written about apartheid South Africa)
SOUTH AMERICA – There are so many books for this list, and so many written by South American authors that I haven't yet gotten round to reading! But these are all ones that I have enjoyed, so hopefully you will too….
Open Veins of Latin America – Eduardo Galeano (a must read for anyone interested in the history of this continent) The Motorcyle Diaries – Che Guevara (a classic – and a great movie too!) Viva South America: A Journey through a Restless Continent – Oliver Balch (Another "learning" book, but again, really interesting) Marching Powder – Rusty Young (Given that you could visit Thomas in La Paz's iconic prison, as suggested by The Lonely Planet years ago, this is a very topical book!) One Hundred Years of Solitude; Love in the Time of Cholera; The General in His Labyrinth – anything by Gabriel Garcia Marquez (The legend of Colombian Literarture) The Gringo Trail – Mark Mann (Dark and funny, but also sad – readable because of the places it covers, but shows you why drugs are a bad idea!) The Alchemist – Paul Coelho (he's Brazilian so it fits…and this a travellers' favourite!) The Candy Machine: How Cocaine took over the World – Tom Feiling (The go-to account of why this drug industry is so entrenched in South America) Turn Right at Machu Picchu: Rediscovering the Lost City One Step at a Time – Mark Adams (because it's one of the jewels of this continent!) In Patagonia –Bruce Chatwin (a travel book about this stunning part of the world) The House of Spirits & My Invented Country: A Nostalgic Journey through Chile – both by Isabel Allende (Another epic writer of South America, she loves her continent!)
CENTRAL ASIA: I ran the trips along the ancient Silk Roads in 2016, and the reading I did before the trip really helped me understand more about this incredible part of the world.  It's still much less explored than the other continents Oasis travels to, but no less amazing.
The Great Game – Peter Hopkirk (The go-to book of Central Asia: How Russia and the British battled it out for additions to their Empires.  Easy to read and inspiring!) Foreign Devils on the Silk Road – Peter Hopkirk (Another interesting book about how the treasure along the ancient Trade Routes found their way to European holdings) On the Trail of Genghis Khan – Tim Cope (one of my favourite books I read – it's an incredible true story of this man's journey following the trail of the Mongols) City of Lies – Ramita Navai (A eye-opening book about life in Tehran.  Really good!) Empire of the Mind; Revolutionary Iran – both by Michael Axworthy (For a great history of the country, or an update since the revolution; both are good and detailed) Out of Steppe – Daniel Metcalfe (This book will teach you how many different groups of people live in Central Asia, and what has happened to them) Apples are from Kazakhstan: The Land that Disappeared – Christopher Robbins (So you can learn that this country isn't only famous for Borat!) 1421: The Year That China Discovered the World – Gavin Menzies (A book that challenges world history as we know it, really interesting!) Reading Lolita in Tehran – Azar Nafisi (A look at how women live and want to learn in this crazy city) Lipstick Jihad: A Memoir of Growing up Iranian in America and American in Iran – Azadeh Moaveni (This gives you a great insight to a Tehran you wouldn't realise existed) A Carpet Ride to Khiva: Seven Years on the Silk Road – Christopher Aslan Alexander (He went to write a travel book, but ended up wanting to live there.