Details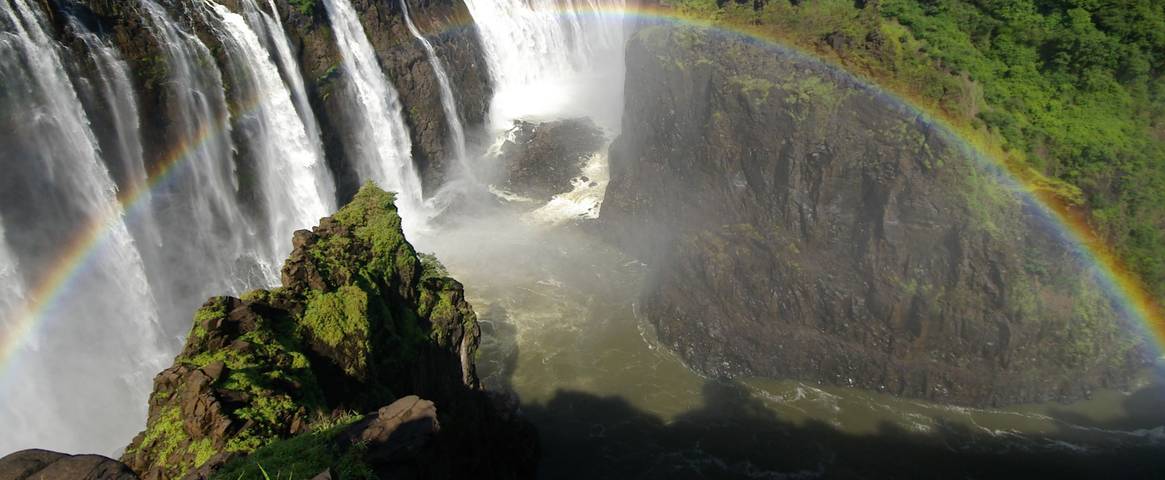 Zimbabwe holds a special place in our hearts for us here at Oasis Overland. We have been taking trips through this beautiful country for 17 years and have been visiting ourselves for even longer than that.
Here are a few reasons why we love it!:  Scenery… wildlife… adrenaline rush! Where else in the world can you see the most stupendous mile-long waterfall that sends spray 400 metres high into the air then scare yourself silly by white water rafting grade 5 rapids, throwing yourself off a 111m high bungee jump or a 95m gorge swing and end your day sipping a cold beer whilst watching a herd of elephants enjoying their evening drink at a waterhole? It can only be Victoria Falls!             
On the opposite side of the country Chimanimani National Park in the Eastern Highlands is absolutely stunning with huge granite mountains and waterfalls on a slightly smaller scale. It's a genuine hidden gem where Zimbabweans are surprised and happy to see you and where you can trek in the cool mountain air.    
In Matobo National Park, tracking Black Rhino on foot gets your heart thumping again.  It's very different to viewing game from a vehicle! And more wonderful scenery here with beautiful sunsets over the vast landscape of rocky outcrops and hills.    
Africa is not just wildlife… Still in Matobo National Park, rock art adorning the walls of caves were painted thousands of years ago and give a glimpse into ancient past lives. Further east, the Great Zimbabwe Ruins were originally built a thousand years ago.  It's not on ancient Egypt's scale but it's one of the few places to see Africa's past in archaeological form.  
Bulawayo to Victoria Falls train The train is basic (produced in the 1950s!) but the journey is awesome.  You don't expect to arrive on time, possibly hours late, but you can pass your time gazing at countryside you may not otherwise see and meeting other travellers, Zimbabweans and tourists alike. If you're lucky and depending on how late the train is, you may get to spot game as you pass through Hwange National Park!   
Welcome to Zim… Zimbabweans are lovely and make you feel welcome – enough said!   You can visit Zimbabwe on our Africa overland trips.