Details
Our Driver Steve has been overlanding for over 40 years, here what he has to say.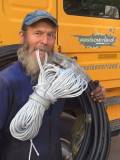 How long have you been overlanding? Since 1978 !!
What was your first overland trip? Delhi to Athens
Funniest Overlanding moment: Libby, a traveller on one of my most recent Central Asia trips,  running around in Kyrgyzstan in a T-Rex suit! It bemused other travellers and locals alike!
Happiest overlanding memory: meeting Janet
Favourite place/activity: Driving through the Democratic Republic of the Congo….I don't like motorways!
Recommended destinations for 2018: Iran….the people are really friendly and welcoming and it has interesting historical sites and good variation in roads
Best truck meal: Roast beef and pig on a spit in Eureka Camp, Zambia for the millenium
Advice for Oasis travellers: Bring 3 things with you – clothes pegs, a washing line and a sense of humour
Final Words of Wisdom: I've seen many changes in my time in this business, and overlanding is still a fantastic way to travel. I've met so many good people and seen so many things