Details
Wroxy, who writes for the Irish Sun, recently did our QUITO to LA PAZ (37 days) Andes & Amazon overland tour in South America.  Here are her favourite moments and photos!:
"GOING on an epic adventure to far flung destinations can be terrifying. Whether it's for a week or a year, to head off into jungles, deserts and the unknown, even with the safety of a group is a scary thing. There is one thing scarier though – coming home.
Yep, everything will be as you left it and things will be the same, but you won't be. Even if you were only away a week you will find yourself pining for the journey you just embarked on, with every day different than the next.
The one thing that keeps me going when I suddenly find myself challenged with the routine of the daily grind – reminding myself of all the amazing places I have been, crazy things I have done and all the unique people I have met.  As someone that the road beckons after a few days of staying still, my photos are my happy place.
I have just returned from an Oasis Overland tour, from Quito, Ecuador to La Paz, Bolivia and am happy going through all the photos I took on the way. Here are some of my favourites for a number of reasons.
HEARTBREAKING… Woolly Monkey, Retro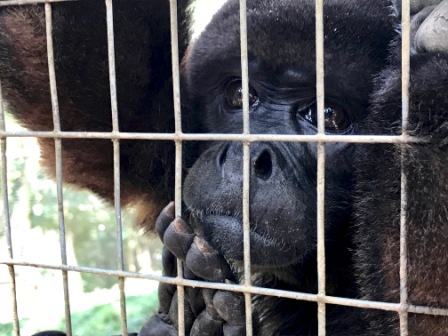 This little guy was a resident of Amazoonico, an animal rescue centre in the Ecuadorian jungle. The main aim of the place is to rehabilitate rescue animals, mostly from the illegal animal trade, back into the wild – some however can never go back.
Although it's terrible that they have to remain in captivity it's a lot better here than some places they could be. The way Retro bounded up to us peering through the bars like he was in jail nearly broke my heart. 
BEAUTIFUL… Punta Sal Beach, Peru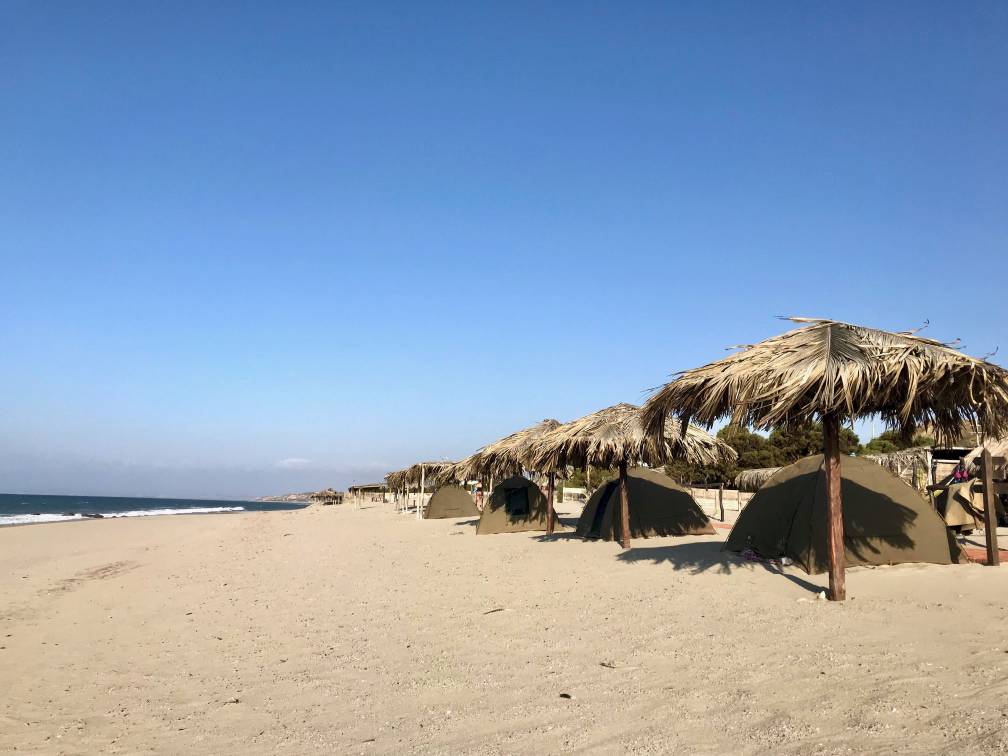 No prizes for guessing why this picture is a favourite. Beautiful beach we got to camp directly on, hot weather, blue seas, total relaxation – a welcome change to long travel days and setting up camp in the rain. 
ROUTINE… Bush Camp, Peru 
We stayed in various lodgings and campsites, some of which were rural to say the least. Here we are having breakfast after a bush camp somewhere in Peru. I love this picture as it captures the normality of camp, and our daily routine when not in a hotel. And it reminds me of how, for some of us, coffee was the most important meal of the day! 
QUIET… Vanessa at sleep 
Our huge yellow vehicle, Vanessa, could be a loud, obnoxious woman at times, unless that is there was a large night the previous day. Then Vanessa would become as quiet as a church mouse with everyone taking advantage of the time to sleep. This was the view from my seat on one such day, makes me smile every time I look at it. 
ADVENTURE… Paracas National Park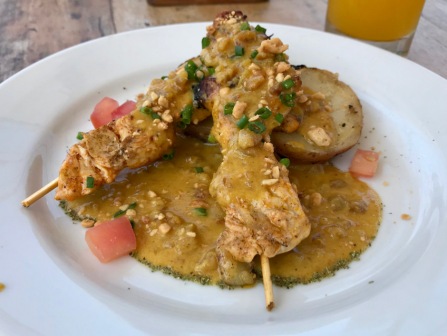 I love this picture for so many reasons. Firstly, the Paracas National Park where it was taken was visually the most stunning of the entire trip to me. Even if the panoramic was so flat you had to walk across the dunes for miles so no one would see you pee.
Secondly, Vanessa had sunk in the sand and gotten stuck. The action men of the group relishing the chance to flex their muscles and dig her out, it was a great group bonding experience.
Then the camp we put up was done in a howling winds and a sand storm of biblical proportions. As a frequent traveller I have my own tent, in these conditions however it was impossible to put up as it was so lightweight. I ended up spending the night sharing an Oasis all-season tent with two generous guys in the group – hilarity ensued! 
TASTY… Satay Chicken, Mancora 
There were a number of food highlights along the way, from fresh, local jungle produce to a Peruvian-French fusion restaurant in Puno.
This lunch stands out the most for me, and this picture of my curried peanut satay chicken starter makes me salivate just looking at it. I was in Mancora, Peru, and it was the first time I decided to splash out a bit and not go for the cheap and cheerful lunch option. At 35 Sol (about £7.80) for a three course meal and drink, that boasted a fish and quinoa main course, it was expensive for Peru but so worth it. 
EPIC… Machu Picchu 
The bucket list destination and highlight to the entire trip, I love this picture as it sums up the visit there for me.
Opting for the train I was fairly fresh and lively, however my partner, Gary, had just hiked for days to arrive. The weather typical of the season and was damp, foggy and freezing. Because of this, the panoramic views of the surrounding mountains we expected were just white clouds. The hoards of people milling around were dressed in the cheap plastic macs in an array of colours – looking like life-size jelly babies.  Yet myself and Gary were smiling because, despite the weather, lack of views and overwhelming tiredness of the rest of the group, we were in a once in a lifetime destination and realised how fortunate we were to be there. 
HAPPY… Cable Car, La Paz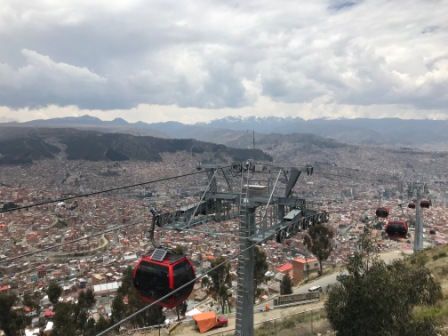 La Paz is a fairly sizeable city with a fantastic cable car system from one end to the other, it also takes you up the mountains on either side and is a great way to spend the day.
These two photos are favourites as I loved the views we got for pennies, and love this picture of me – it instantly transports me back to that cable car and the surround tourist day I spent in La Paz, the finale to my adventure. Happy… very! 
FAMILY… our Oasis Overland group 
This one needs no explanation other than these are the wonderful humans I got to spend my days  and nights with for this adventure.
As any family there may have been ups and downs but I wouldn't change a single one of them and feel fortunate to have made friends for life – as only those who're brave enough to take the leap into overlanding will know. 
Thank you Wroxy for these fantastic images and memories of your South America overland trip!  You can read Wroxy's article about her trip in the Irish Sun