Details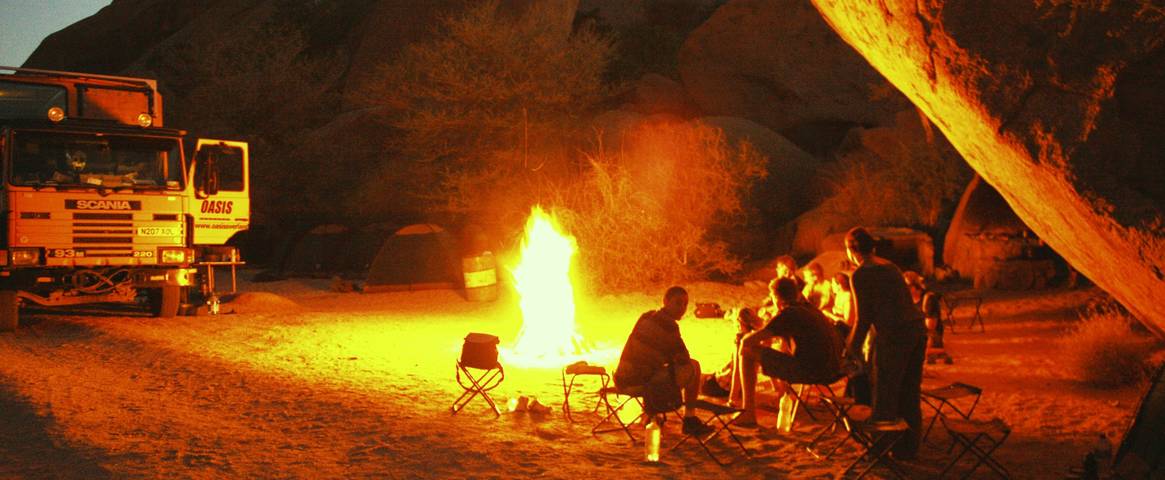 Continuing on from my last blog, Deserts & Gameparks – part 1 (for those that missed it!) I had just left Botswana with the group and have now entered Namibia. And our first stop was to stay at a campsite right on the edge of the Okavango River, which feeds in to the Okavango Delta. Where rather than a pool, you can jump in to a caged 'pool' in the river to cool off, while being kept safe from crocodiles and hippos! The views from this campsite are just incredible, and if there is availability you can always upgrade to one of their tree houses, which are just lovely!
From here we set off for Etosha National Park, & I really loved this Park, as we saw so much.  The heat was incredible and it was amazing to think that any animal would venture out in those temperatures. At our campsite we all relaxed and cooled off in the pool before we did a late afternoon game drive, hoping to have more chance of spotting animals….and we were so lucky, as we were treated to plenty of elephants at a watering hole, giraffe and even a rhino, as well as zebras and jackals. Once back at the campsite we headed down to the flood lit watering hole where we were treated to a rhino settling down for a rest in front of a beautiful sunset. The next day we once again set off for another game drive, where we saw even more elephants, rhinos, hyenas, mongoose, vultures, Oryx, springboks, lions and even a lioness just shortly after killing a zebra trying to move the remainder of its kill in to the shade and out of the open and away from all the Jackals trying to get a snack! And once again at the floodlit watering hole at the campsite we were in for a real treat, as 6 rhinos came down to drink and get right in, as did 2 hyenas, a lion, giraffe and a herd of elephants. All in all just a really great place for seeing Africa's wildlife.  
Cheetah park was next, where a family has a few tame cheetahs, and some wild ones too on their land. These cheetahs were caught by other farmers nearby and were going to be shot, as they kill their livestock, and are seen as a nuisance. With nowhere legally to relocate them this family have taken on a few of them to save them. Some were rescued at a very young age and so were hand reared hence why 'tame', while others roam freely around the 7000 hectares. Being able to touch these tame cheetahs and hear them purr was incredible, and it was lovely to meet a family who clearly cared for them so much. 
There is such a mixture of stunning sceneries in Namibia that it is just mesmerising to watch as you drive through it. Our next stop was a Himba Village and a short tour for those that wanted, the guide was interesting and did give you an insight to their lives and the tribe, I may have got distracted and ended up playing with one of the children, who kept going in to fits of giggles as I was driving his toy car up and down his arms – his smile was just infectious.              
We then continued on to Twfelfontein, where in its valley are rock paintings/engravings dating back to 2000 and 2500 years ago.  Some of them were still so clear it was strange to think that someone had carved/painted these all those years ago. On the day we were there the heat was extreme, and there is no shade while looking at these, and so it was a case that we did a very quick overview of them while taking pictures, before getting back to the shade of the truck as quickly as possible! That evening we had a bush camp, which for me have always been my favourite things – as a small child I was lucky enough to camp out in some really incredible places with my family such as along the Nile in Sudan (now North Sudan). And this bush camp did not disappoint, we truly were out in the middle of nowhere, away from town lights, and so you could see the stars clearly as we sat down next to the camp fire, and through the mesh of my tent (as I didn't need to put the full tent cover on), others also just slept out next to the fire in their sleeping bags to get the full impact – who needs a shower when you get to have a stunning night like that! From here we made our way to Skeleton Coast, seeing the empty Desert on one side of the truck as the ocean appeared on the other side created a beautiful setting. We all got off the truck and headed down to dip our toes in the South Atlantic Ocean, and oh my goodness was the water cold – unsurprisingly none of us went for a swim! It did get very windy down on the beach, but I still felt like it was a cold English summer, but our driver Often from Kenya thought it was freezing! After a few obligatory pictures and checking out a small ship wreck we continued on our way.                  
The next stop was given away by the smell, oh my goodness it hummed! Seal Cross Colony where you can smell and hear them before you even see them. It was hardly surprising as you saw how many of them there were crowded in to this area – the numbers were just insane! Strangely I did seem to get used to the smell, but perhaps that is because I am used to being surrounded by farms back in the UK! We left the coastline for Spitzkoppe, an outcrop of mountains in what appears to be the middle of nowhere, where we were treated to our next bush camp. Although this is a bit of a cheat 'bush camp' as there was a drop loo in a hut, rather than having no facilities at all.
For those that wanted you could set off and explore the rocks and wander up as high as you can get, or you could go on a guided tour, either way there was no way of escaping seeing rock hyrax's (a bit like very large guinea pigs!) which seemed to be everywhere! Another night of sleeping out under the stars was just perfect. Swakopmund was our next port of call, and this was a town like no other I had yet seen on this trip, as it was if I had suddenly transported myself to Germany, as there was no mistaking the German influence here. After Victoria Falls, this is the next opportunity on this trip to get the next adrenaline rush – so once again I crammed in as much as possible! Within about an hour of arriving in to Swakopmund I had signed up to a few activities, and was already on my way out in to the middle of nowhere, to do a tandem skydive! I really, really loved this (even though I am actually scared of heights!), the adrenaline rush you get as you are falling is just insane, and even while you are wearing the most ridiculously hideous jumpsuit ever, and giving your best Harold Bishop impressions as the wind contorts your face in to odd shapes, you can't help but look around and take it all in – the views from up there were just incredible – The Southern Atlantic on one side, the Desert on the other and the outcrop of Spitkoppe in the distance…I was just so pleased I did the jump here.          
I also did a dolphin and seal cruise for a morning, where you go out to Walvis Bay, and on route to the boat we stopped off to take in a flock of flamingos feeding along the shoreline. Once on the boat it didn't take long before we were joined by a large pink pelican, and then a seal! As we moved away from the jetty it was only minutes before we saw our first pod of dolphins. On this cruise we saw lots of seals, and ones that liked to swim in the wake of the engine, we also got to see hundreds of oyster catchers and hear about how they are farmed – to top off the morning we were given delicious snacks with champagne (there were also beers and soft drinks provided) and oysters, so I did feel very glam and a lit bit merrier by the time I got off the boat! I also managed to drive a quad bike later that day across the desert, which I found scarier than jumping out of a plane! More natural settings were up next on our adventure, from watching a sunset over a gorge to climbing up Dune 45 to see the sunset (oh my goodness hiking up sand is really, really hard work!), and visiting Sossusvlei, and then heading on to Fish River Canyon and its impressive views…I will let the pictures show you what it is like!                  
We then entered our final country on this trip, South Africa, where we headed to Stellenbosch, where we all went on a rather fun & yes boozy wine tour through 4 different wineries, all with stunning locations, before heading on to finishing our trip in Cape Town.
If you have the time I would definitely recommend staying out in Cape Town for a bit longer as there is so much to see and do there.