Details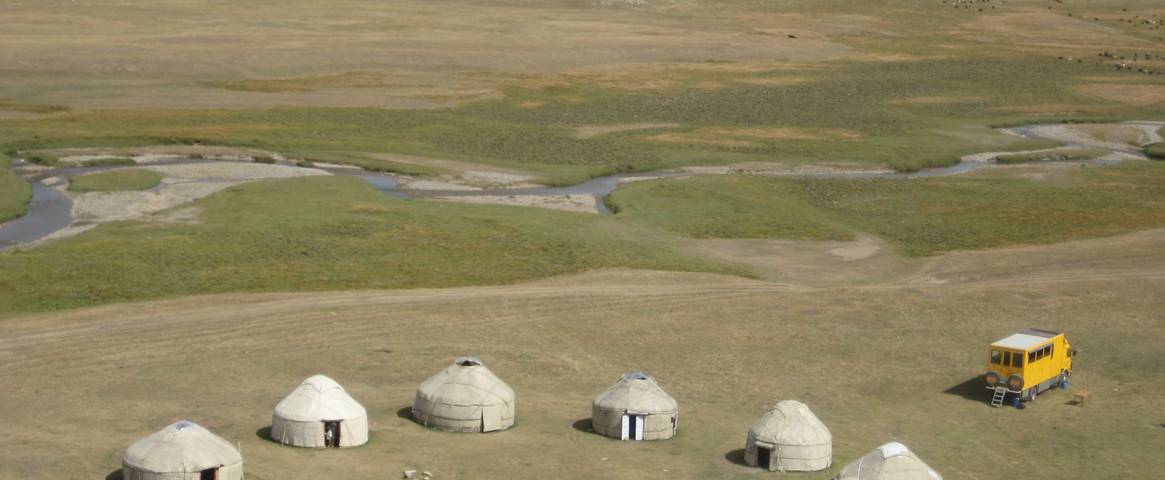 …continued on from Katie's Kyrgyzstan Trip (part 1) The day after our fun in Jeti Orguz, a few of us opted to watch an eagle display, where the trainer introduced us to his 4 times eagle champion – Tamara.
Eagle hunters are quite common in Kyrgyzstan and it was great for us to learn about this tradition from someone that was very passionate and who clearly cared a lot about his eagle. The display was impressive, but it was actually hearing all about the care and training of an eagle that impressed me the most – and the fact that I got to hold Tamara! To complete another perfect day (this was the running joke on the trip…as every day was just so good!), we set up our next bush camp back on the shores of Lake Issyk Kul.
The middle of the trip saw us arrive into Kochkor, which is where we had our 'homestay', and therefore a bed and the one shower of the trip, which was a real treat. The homestay is where you stay with a local family in their house, and where they cook your evening meal and breakfast for you – and to say the food was delicious is an understatement! Following the homestay we were treated once again to a stunning day of driving through a valley and slowly making our way up to Lake Song Kol, where we even had a quick photoshoot with some yaks! As we decended towards the lake, it reminded me of the Ngorongoro Crater in Tanazania, but rather than seeing herds of wildebeest, I was looking at hundreds of herds of horses, with the odd sheep and donkey scattered in! This was going to be our set up for the next three nights, a beutifully decorated yurt near the lakes edge. To me this place was just perfect, as the sunsets were glorious, and I would fall asleep and wake up to the sound of galloping horses close by. Having never ridden properly in my life, I decided this was the place to do it – and I was very pleased & relieved to see that my horse was rather docile! This provided lots of entertainment, as my horse took me on the route it wanted to go, rather than where the rest of the group were going (but somehow we made it back to the yurt)! Grace our tour leader also arranged a game of Ulak Tartysh (a Kyrgy version of polo!), where a lamb is killed and then the body is hitched under the leg of a rider and they have to get this to a goal on the ground. It is a great game to watch, where you get to witness the incredible horsemanship skills of the Kyrgy people, and it became a real social event where other locals rode over and ended up joining in, and continuing the game long in to the afternoon.
We all felt a bit sad to be leaving Song Kol, but we were in for a lovely suprise, our descent was on the other side of the lake, with views that just had to be seen to be believed – so hopefully the picture of the extreme flapping does it some justice! Making our way through mountain passes we made it to Tash-Rabat, which is a caravanserai in really great condition, and our tour leader and driver both agreed it was the best along the Silk Route that they had seen, so something not to be missed. Heading back towards Bishkek my spirits dropped as the trip was coming to an end, but luckily we did have time to visit and climb up Burana Tower, a 24m tall minaret which is all that is left of a once thriving city – but now gives you a chance to see the views all around and a moment to take in all that we had seen.