Details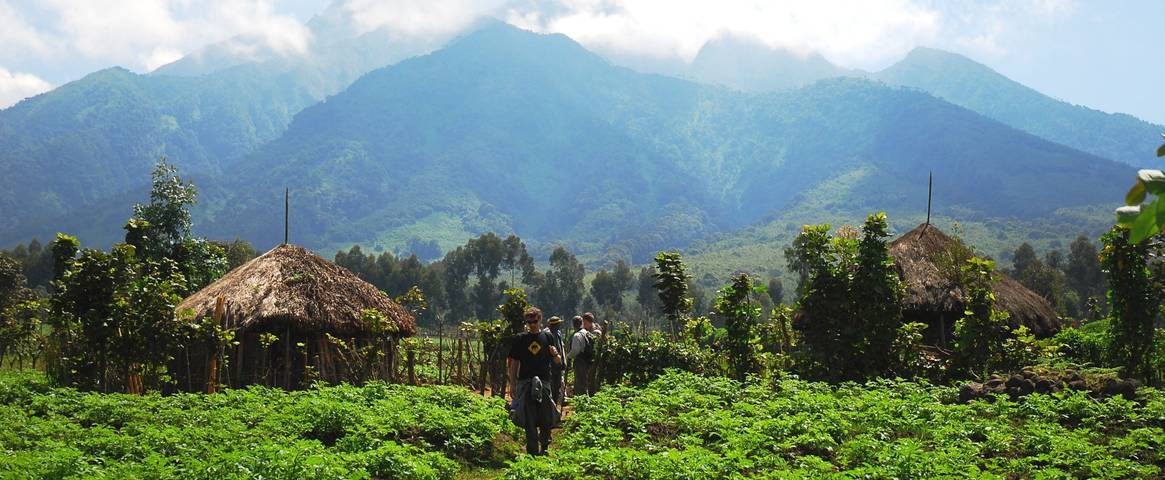 We obtain gorilla trekking permits for those wishing to do the gorilla trek in Rwanda through Herbert, who some of you may have met during your overland trip with us. We have worked with Herbert for many years and when company owner Chris met him, he told him how he had been a child soldier during the 90s.
We thought it a poignant story worth telling. by Gato Herbert, Rwanda "My experience during the 90's when I joined the RPF (Rwandan Patriotic Front) was a strange and sad experience" explains Herbert. I left school at the age of 14 along with some other school friends after we were befriended by a group of men and given the opportunity to join a project helping young Rwandan children who were in exile. These men dressed in civilian clothes and when they visited our village near Kisoro in South West Uganda they would give us candy and tell us stories about how good our future would be if we could help the children. The children spoke Kinyarwanda, which was our local language and if we helped them we would be looked after. Little did we know that these men were part of a Tutsi Army rebel group, the RPF (Rwandan Patriotic Front) that was fighting for liberation of Rwanda from 1990 to 1997. I didn't tell my parents, I just left in the night.  We were told that the mission should not be done publicly and when I asked about bringing my clothes I was assured there were lots of clothes in the area we were going to. I will never forget that night. We covered around 70 miles on foot, collecting other groups on the way until the group became very large and they then split us into smaller groups. They had promised we would travel by truck but when my friends asked why all the walking, they were immediately separated from the group. I later found out that they were tortured. Around midnight when we were approaching the Rwanda border I realised we were being led by the army rebel group and upon reaching the border we were handed over to a group of aggressively officious men in uniform, all whom were armed. That's when the penny dropped, I realised we were being forced to join the RPF (Rwandan Patriotic Front) and thoughts of my mothers words of warning started flooding back as the tears streamed down my face. My Mother knew I'd been talking to campaigners and warned me of such things and now I was praying to God, oh how I wish I'd listened to my Mother. Tired and hungry we hid in the bushes until we were found and searched by operation commanders and checked for any documents or family photos. Anyone who misbehaved or tried to escape was made an example of and they were slotted with a bayonet on the spot. By now we had not eaten for three days but no one dared to complain, some of the Army would tell us food was coming as a form of motivation but that we needed to wait patiently as the path ahead was not clear yet. One week later we started training and we were hungry, worried and tired and the AK47 was fully loaded and so heavy and we were starting a war. It was as if I could never feel a child again. At first I didn't know who to fight but after witnessing so much loss of life I quickly learnt what war was about and six months later we were defeated by the Government Army. Museveni, the President of Rwanda at the time was secretly supporting us and granted permission for us to retreat back into Uganda for one night during which time Kagame, our current President and then head of the Rebel Group decided we should move north to the Virunga Mountains.  We completed the tiring overnight march into the high altitude area for two months, where the Rwandan Army could not attack us. Conditions were harsh and many members of the Army perished due to freezing temperatures. I will never forget the hunger in these Mountains where we shovelling bamboo shoots into our mouths like gorillas just to stay alive.
Eventually we made a surprise attack on a small town, capturing it for a day so we could gather food, weapons and equipment.  We stormed the Ruhengeri prision freeing political prisoners and succeeded in creating an escalation of fear in Rwanda. Following this the RPF withdrew and began to carry out a classic hit and run style guerrilla war, low intensity fighting which dragged on with neither side managing to inflict any major defeats on the other. The Army had to be furiously reorganised in the Virungas Mountain, such was the loss of leadership. Alex Kanyarengwe, a Hutu forma ally of Habyarimana and then President of Rwanda, was appointed RPF Chairman. During this time the RPF also recruited from the Tutsi diaspora. In addition to Ugandans, new members arrived from Burundi, Tanzania, Zaire, USA and Europe. By early 1993 the RPF had grown to 15,000 and after the 1994 genocide we were 25,000 strong. I cannot explain the struggle of war or what I went through, that is for another time. But on reflection I can say that with the new lightweight weaponry available AK47s are now much easier for children to handle and fire, even from the age of eight and with much less training needed.  Moreover child soldiers are obedient, they don't question orders and are easier to manipulate. They don't demand pay and don't complain. They are loyal and won't desert the Army if things worsen as they grow older and they will die for their Army. Some children become soldiers simply to survive, as they believe they will get a better life. In war-ravaged countries where schools have closed, fields destroyed and relatives arrested or killed a gun is a meal ticket and a more attractive alternative to sitting home alone and afraid. This was the life in Rwanda. I am forever grateful that I survived this time but I carry with me the scars of war and I live every day with the memories of being a child soldier. 
Footnote: Herbert and his wife now have a thriving business and employ approximately 5 people and have been providing all the Gorilla Permits for Oasis Overland travellers since 2008. If you would like to go and see the Gorillas we offer a range of overland adventures, most popular being our 19-day Gorillas & Gameparks, which starts and finishes in Nairobi. For those with less time we offer a 14-day Nairobi to Kigali overland trip visiting a selection of terrific wildlife National Parks en route.