Details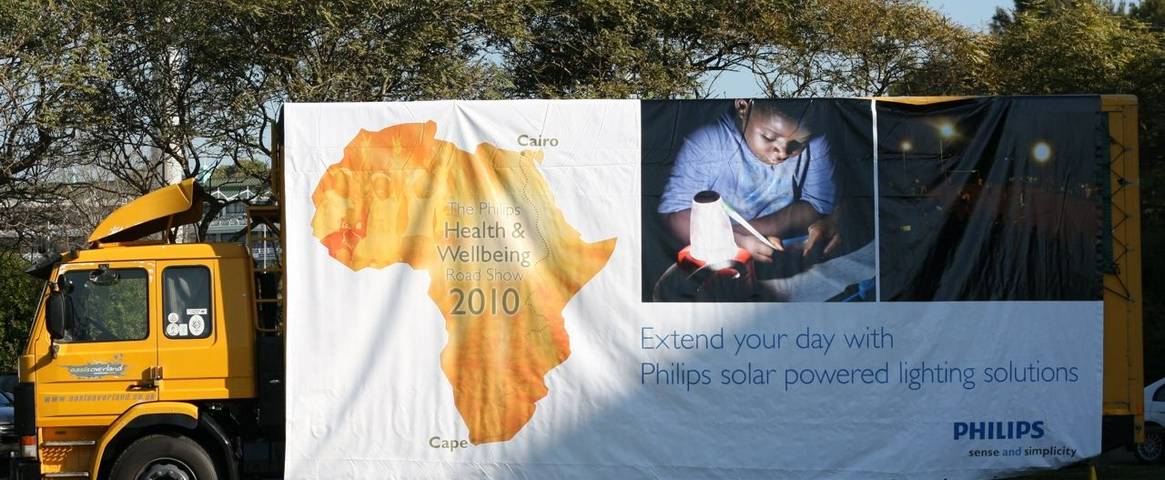 Fly to Jo'burg in South Africa and provide the logistics and transport for some guys with light bulbs was the remit.  It didn't sound like any ordinary trip, but as I'd been involved with Philips (yes those light bulb people) from the start of the project, I was quite keen to see what they were up to.
Our journey was to take us to promotional events in and around Johannesburg, Durban and then along the garden route to Cape Town.
Each event comprised of setting up a 5 a side football pitch, complete with flood lights, and a conference room, including show stands, banners and sample equipment.
In total we had around 1 ton of gear and equipment on board the truck – it was a total trip style change for me – passengers had changed to packing crates and camping under the stars to plush hotels!
The technology that Philips has managed to produce just blew me away.  Just 8 x 28 watt lights, running on car batteries, lit the 5 a side pitch.  It gets dark in Africa at 6pm and to extend peoples' day by even just a few hours could make a massive difference.  And the clever part is that the technology is green too, as its all solar charged.
Travelling down the garden route with Nick and Anthony of Philips was a lot of fun.  Its been on my list of things to do for a very long time and is just one of those classic road trips.  Each turn brought about a new landscape and to finish the trip in Cape Town under the world famous Table Mountain was a real highlight.
It was a real pleasure to bring home the Philips Cairo to Cape Town Roadshow and I hope everyone involved enjoyed it as much as I did.
What Nick Kelso, Senior Communications Manager for Philips had to say:  'Oasis Overland  were simply superb, Professional experienced and inspiring…….the success of the Philips 2010 Cairo to Cape roadshow was  in large measure due to the excellent logistical support we received from Oasis Overland.'
If you'd like to travel some of the route Mark took, take a look at our Southern Explorer trip from Cape Town to Johannesburg.  Or if you have more time, why not do the whole route on our Cairo to Cape Town Nile Trans!