Details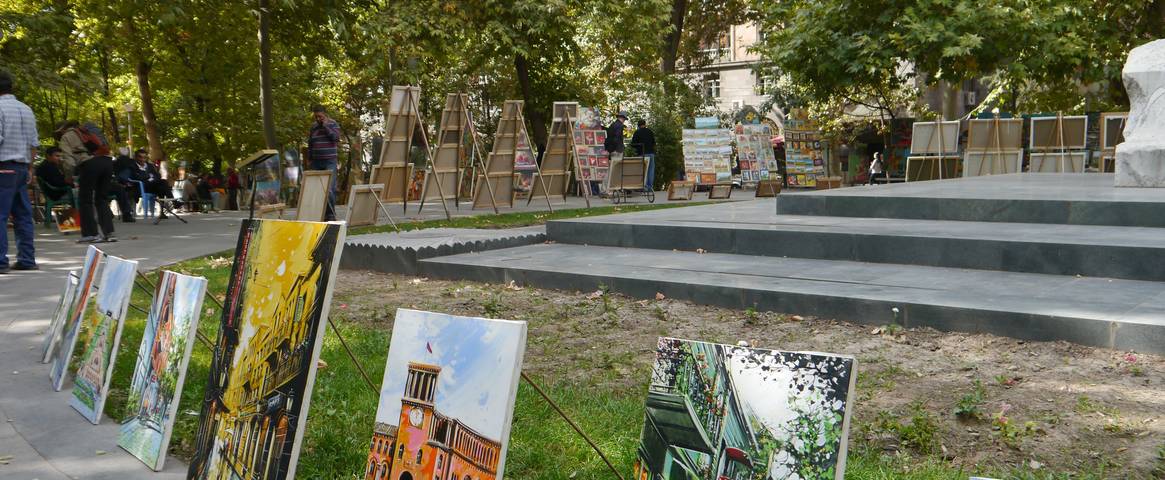 Up until very recently my knowledge of Armenia, the smallest nation in the Caucasus region, was embarrassingly thin.  So upon booking flights to Yerevan to go and join our first Oasis Overland trip through the region, I didn't know what to expect.  I briefly looked into it and built up in my mind a number of preconceptions: this was a former Soviet city, nestled between Iran and the Caucasus, so I expected bland concrete tower blocks, grey skies and nondescript restaurants selling earthy meals of meat and potatoes.
Once I actually got off the plane and had a look around Yerevan, these stereotypical and frankly UKIP-ish views were, of course, way off the mark. As I had a day to spare until the Oasis group arrived from Iran I spent my time idly wandering around the city.  With a crumpled map handed to me a friendly member of the hostel staff (who spoke better English than me) I strolled lazily and without any direction through the city centre and found myself in a cosmopolitan, buzzing and yet remarkably relaxed place. I walked down one street lined with pavement cafes, from which the aroma of freshly ground coffee drifted while locals sat flicking through broadsheet newspapers in the warm autumnal sun.  More than anywhere this reminded me of the less-touristy parts of Barcelona.
Reaching the end of the café street I next stumbled across a huge open square dominated at one end by an intimidating-looking opera house, with harsh brutalist architecture.  'Ah, this is more like it', I thought, 'that last bit was obviously the exception, this is definitely what Yerevan is like, it's so Soviet.' This was instantly reversed when I turned around to see some local traders setting up small, battery-powered racing cars that toddlers were jumping in and zooming around gleefully aiming for the adults who walked across the square.
As the day wore on, having one impression instantly turned against you became a constant theme.  Approaching a kiosk to buy a drink, a hard-looking man in scruffy clothes who I would've put good money on having just escaped from a homeless shelter approached me and as I prepared myself to be mugged he simply put out his hand and welcomed me to Armenia before carrying on happily with his day.  The streets were spotlessly clean, the shops full of exotic and interesting goods and the food and drink plentiful, cheap and delicious. Not once did I even see stewed vegetables, let alone eat them.
Walking down a dark alley one night we went past a bar where a man who was stood outside appealed for our attention. Expecting to be accosted by a drunk man, as you would find if you went past a Wetherspoon and someone started taking to you, I found myself in discussion with a man no older than his mid-twenties who invited us in, using perfect English, to see his band play.  We accepted, and entered a smoky underground bar that would not be out of place in a Raymond Chandler screenplay, and were treated to a rousing display of Beatles covers and big Armenian beers.  We even got some free peanuts.
In total I spent three full days in Yerevan, and during that time ticked off many of the main sights, such as Republic Square, a huge public space with intense Stalinist buildings providing a backdrop for an incongruous water and light show every night, the vast Cascade, a flight of steps dotted with modern art installations leadin
g up on the hills that surround the city, and also the hugely significant Armenian Genocide museum (if you haven't heard of this I wouldn't be surprised, I hadn't beforehand, but do yourself a favour and look it up).
There were many museums and brandy distilleries I didn't make it to (did you know Armenian brandy was Winston Churchill's favourite, and when his preferred distiller was imprisoned by Stalin, Churchill personally lobbied for his release, which Big Joe agreed to), but this was probably because the real joy of Yerevan was simply being there, soaking it in and being surprised at every turn.